PICK-n-PULL Johnston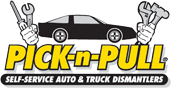 Address

30 Green Earth Way

Johnston, RI 02919

Phone
(401) 943-0683
Hours
Mon-Fri 9:00 am - 6:00 pm
Sat-Sun 8:00 am - 6:00 pm
LINKS
Website | Part Pricing
Vehicle

Info

Yard

Row

Added
You pick the part i pull it, It wont matter on the make and model. From headlights to engine You name it ! Message me your location and well negotiate prices.

Mike from RI. Hobbies are Jeeps & boats! I'm a Marine Service Technician, looking to pull parts in my slow winter season! As someone who also buys parts online, I know fast shipping & clean parts are important!

Foreign car expert - Audi, BMW and Mercedes - and eBay member since 1999 with a 100% Feedback. Email me with your part needs anytime. Can pull within 24hours of inquiry.

Hi I'm Mike I have over 20 years experience as a certified auto technician so not only can I pull your parts I can put them in too at a reasonable price

Name is Rob. Local, usually dealing in small parts/exterior/interior. Paypal/Cash payment due before pulling. Will deliver if in Southern New England. Unavailable from September-Mid December & Mid January-May.

Do it yourselfer with over 30 years experience .Need a part? We got you covered if its available. seniors, Disabled, and Vets, receive a special discount

I can pull any part for any car. I am an ase certified mechanic and automotive parts expert. Give me a shout for any an all your automotive problems or questions! Guaranteed professionalism!

i will pull anything part from any car if you need something please feel free to call @ 4014396833 or email at tisles79@yahoo.com

Im a Rhode Island Jeep GuyI hit the yards on weekends or other days off to pull what ever you need

My name is Mike I am an ASE auto technician. 20 yrs experience.can remove any part small and large ship or local delivery

need your parts pulled but don't want to travel to the junkyard and get dirty contact me Owner of GoncalvesAuto, Kevin G

New to the picking world. I love cars and knowing how they work. Can pick most basic things but don't have tools for any engine or other complex cars parts yet. Plans are in the works to get them eventually.

I'm here to get what you want. As soon as I possibly can. Very negotiable. Weekends are the best time to get things done. Works out best for me.

Hard worker. Well experienced in automotive. Will help any way i can. Look forward to helping those people that wanna save some money. I look forward to helping.!!!!!!!!!!!!!!!!!!!!!!!!!!!!!!!!!!

I just love to wrench. Contact me with a phone number and i'll either call or text back. I can pull and ship same day!

My name is Marloon and I am very interested when it comes to cars. I am very dedicated to vehicles and i am always happy to help others. We have to give help in order to gain some.

it's my hobby, will find the newest part available. OEM/aftermarket by request. Also, testing (electronics), cleaning/refurbishing and local delivery available & most always included - Can provide installs /How-to info.

Hello. My name is Kyle. I am an experienced parts puller and I value your needs and look forward to helping you find the best parts for your vehicle shipped to your door.

Very knowledgeable on german cars that is primarily what I work I am able to pull any parts you may need can pull engines, transmissions, you name it

i specialize in finding hard to find lexus is300 parts and also would take almost any german and japanese parts off if neccessary

Car collector at a yard at least weekly to gather a part for my own fleet. Would be great to help someone find a part

Casual Jeeper. Go to the yard bi-monthly looking for interesting parts. Usually have a surplus of good used parts. I go to the yards in Rhode Island because they're way better then any we have in CT.

Im not in this as a side business like others. Just a "gear head" that enjoys fixing my own car. Im no longer pulling engines, trannies, diff's and the like. need a small manageable piece, let me know. you ship it.

certified automotive technician with 20+ years in the automotive industry, specializing in all aspects of automotive repair. I love fixing cars for a fraction of dealer costs and helping people at the same time

3 years pulling experience pull parts from small to large reasonable pricing easiest way to contact me is via my cell phone 401 585-3375 I work out Rhode Island and Mass

I am a diy guy. I can pull most basic items plus some tougher items (no engines or transmissions yet).