PICK-n-PULL Chico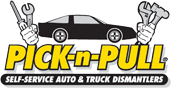 Address

397 East Park Avenue

Chico, CA 95928

Phone
(530) 343-5590
Hours
Mon-Fri 9:00 am - 5:00 pm

Sat-Sun 8:00 am - 5:00 pm
LINKS
Website | Part Pricing | Yard Map
Hello! My name is Thomas Secrest and I am a professional automotive repair technician at Tom's Automotive where we have just celebrated our 14th year in business! If you need a part let me know!! (530)360-0711 (text)

Contact: 831-206-9612 text/email oneclassic_70@yahoo.com. No motors,trans or some items due to back issues at the moment. If you need something big pulled, let me know & I can find someone.

i have been an autoglass installer for 20 years.I will pull the glass you need damage-free. I am also available to install the glass in your vehicle. I get $25-$40 per extraction, and $40 per install.

I can work on anything can get any part. Nothing to big or small. Plus do automotive work out of my personal shop at home. All tools possible and car lift.

I'm just a college student trying to find a way to make a few extra bucks. I've enjoyed parts pulling for about 10 years now. I have a flexible schedule and can pull just about anything but engines/transmissions.

i'm a mountain man from nor cal. i love working on vehicles, especally my own. i take great pride in my work, more so on friends and family's rids. Feels good knowing you are the reason someone is getting to work on time

I have 5 years of experience working with vehicles. Usual days I'm able to get to parts are Friday and Sunday. If you have any question send me a message @ Row52. Ebay user id is mobilemechanic530 if you prefer paypal.

Can only pull on weekends! Please call me as I do not get email notifications! Send me a shopping list I'm in the yard almost daily if I pull your part, I request a 20% mark up fee and admission. Willis 530-680-0799

Need an excuse to hang out at the junk yard more often, let me know if I can help with anything.

I am very knowledgeable. I take the time to pull parts properly. I try to be very prompt and courteous.

Hello I'm Ryan I'm familiar with lots of mustangs performance and OEM .as well as Honda; acura and many other vehicle makes

Prefer to do european and domestic cars but specialize in German. Text 530-588-8350 for pricing. I can also help you pull parts off of any other vehicle.

Im a very thorough an detail orientated person,an know how it is to have to wait for parts to arive.especially when you have no weels.if you need it done right an want it fast im your man😁

I listed Redding and Chico Pick-an-Pull yards as my home yards, but also frequent Antelope, Rocklin Rancho Cordova and Sacramento as well.

I visit pick n pull yards regularly and there is no job to big. If its there ill pull it!!!!! engines transmissions drive lines interior My rates are very reasonable and I am willing to ship.

I have 5 years worth of mechanic experience. Can pulls off most parts for customer fairly quickly and without damaging the part. My prices are also fair and can even do extra work like installing it for the customer.