PICK-n-PULL Fairfield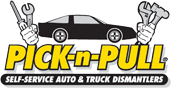 Address

4659 Airbase Parkway

Fairfield, CA 94533

Phone
(707) 425-3783
Hours
Mon-Fri 9:00 am - 5:00 pm

Sat-Sun 8:00 am - 5:00 pm
LINKS
Website | Part Pricing | Yard Map
Vehicle

Info

Yard

Row

Added
If the heat dont kill me I'll give a shot very experienced PnP parts puller. pulling chevy parts for 20 yrs can pull your part or work along side you ,LEAVE TEXT NUMBER to contact ,RWD TRANS PULLS 100 RWD ENG PULLS 250

My name is Carlos and can pull any part(s) off any vehicle. I can only pull from the Fairfield, Ca. location but for the right price will go out of my way. I am available now 01/17/2018 at any time.text me 7077181863

I'm a jeep guy, owned a YJ for 10 yrs. now have an XJ. Will pull parts for any make and model. I do Interior and electrical. I am an Electrician by trade. Will also travel to Sac. Area

Specializing in third gen camaro 92+ caprices have lots of ecms proms and chips hit me up with lists of parts wanted thanks

Professional Mechanic with over 30 years experience and a man with integrity. Let me know what you need and let's get you those parts!

Engine Transmission and small parts anything you need I'll get it for you fast and professional call Ed please text or call 916 410 3128 thank you the phone is the easier option for me I will get back to you right away

Parts Puller in : Richmond -- Fairfield -- Newark -- Oakland -- Windsor -- San Jose North -- San Jose South ------ * Contact me for more information.

Female car enthusiat CEO of import royalty car club owner of a 96 ek civic dont be fooled even if im a female i know my car infos and i be working on hella cars any day its a passion

I can pull parts for chevy, dodge and ford trucks. I also have parts for these trucks going back to the 50's.

Semi retired master tech will pull any part any vehicle anytime. Expert lowest cost shipping experience and very reasonable rates. Jeep MJ/XJ lover here!

58YO,CERTIFIED MECHANIC WILL PULL YOUR PART AND DELIVER MIT OR YOU MEET ME,WILL COMMUNICATE FROM YARD OR WHATEVER

I have 12 years exp. as a puller will deliver personally if local hit me up will get you your part in no time

I have been pulling parts for my cars since I was a teenager. I now take my daughter yards and I am teaching her to pull parts for her Mustang. I know how frustrating it can be when you can't find a part you need.

I VISIT THE YARD ONCE OR TWICE A WEEK. LET ME KNOW WHAT YOU NEED AND I WILL SEE IF I CAN HELP

30 year tech, been going to the Fairfield and Richmond yards for years. Pulled over 36 engines in the past 10 years and haven't pulled a bad one yet! Knock on wood.!

If you want the best >>>Call me !! I've been wrenching since I was 9 yrs old. I do it all and there's very few that are quicker with the quality I provide. I keep your best Interest #1

Hi I'm Elizabeth, I have grown up working on cars and things with my dad. I work nights and when I'm free during the day I don't mind pulling parts that are requested.

long time acatic will pull any part you need for any vehicle and deliver possibly within the Bay Area same day service

I know the 88-00 civics in the yards pretty well. I might have the part you're looking for, if not I can help you get it. I go to the yards almost weekly. Paypal verified.

Experienced Automotive technician, specializing in the removal of requested parts in a timely manner, professional and courteous

I been repairing my own car for years with decent knowledge and will be happy to find your part while I am in the yards.

Over 30 years in the automotive repair industry. I favor European manufactures . Same day service and shipping available .

US Based. Cheap OVERNIGHT shipping. Contact (text preferably) me for any parts you may need and I'll look for you! (510) 676-9919

I only pull parts that appear to be new. I also collect spare parts for mostly Lincoln Town Cars.

Been working on cars for 30 yrs. So even if you have questions I'll be happy to answer. Servicing Stockton to Sacramento and in between.

Automotive student, with a discipline of getting things done as soon as possible. Been doing auto work for four years.

Very knowledgable with dismantling and assembling vehicles. I can pull anything from electronic components, body parts to engines and transmissions.

I visit pick n pull yards regularly and there is no job to big. If its there ill pull it!!!!! engines transmissions drive lines interior My rates are very reasonable and I am willing to ship.

I've been working on my cars for years. I enjoy helping people out. I know BMW a good amount as well.

Will pull your parts possibly deliver, mail or meet up...we are a team so what I don't know he does when I'm n I think strong enough to wrench it he isaid will charge u cost of part plus 20% labor fee and then cost of m

Have full time job but I'm happy to help pull parts in spare time. Can pull most smaller stuff, don't have resources to pull large stuff like engines/transmissions. Am experienced with Ford/GM trucks, SUVs, and cars,

Am a retired Heavy Duty Equipment Mechanic who like to still feel a wrench in my hand. Work on all my own Equipment as well as our family Vehicles.

28 year old Veteran from U.S Army where I was. light wheeled mechanic for 4 years. knowledgeable with all Honda(Acura)/models. I build, maintain my own. I'm a perfectionist when it comes to part quality/condition.

Im an all around guy I've worked on cars of many makes and models, so if you have any questions and would like to contact me my number is available so please call if I don't answer please leave me a voice mail or text.

15-plus years of experience working on Volvo 240s, Redblock engines, some Mercedes models and Japanese cars. Will pull parts and also install for you. Email is best way to reach me. I accept Paypal payments. Thank you.

I am an automotive technician who just want to make a couple extra on the side. I love working on any types of cars from domestics to imports and a perfectionist when doing so. Just need to be clear with parts needed.

I have been going to pick and pull every weekend recently to pull parts for many projects I have been working on. I love going through cars and taking stuff apart just to learn more about them! VW/Audi Specialist + more!

Audi & VW Specialist + imports. I get the parts u need & ship nationwide or deliver in NorCal + Private mechanic services. Honest & Fair. Most Payments accepted via PayPal or Cash or Ask me about 90day financing!