PICK-n-PULL Merced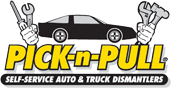 Address

1150 East Childs Avenue

Merced, CA 95340

Phone
(209) 722-3376
Hours
Mon-Fri 9:00 am - 5:00 pm

Sat-Sun 8:00 am - 5:00 pm
LINKS
Website | Part Pricing | Yard Map
Expert parts puller and mechanic. Can pull any parts at a fair, competitive price. Will send pictures of cars and parts from yards if needed. Thank you.

Hello, my name is Fred and I'm as simple as it gets, just a 23 year old college student who LOVE cars as a side hobby and basically know my way around a wrench and car. If need anything you may reach me at 209 947 6231

Need parts or repairs contact me at 209-818-2719. Looking to pull parts for extra money. If the price is right I will travel 100 mi+ Advanced Engine Performance Specialist 609 Certified for HVAC Smog inspector

I usually pull import part but I can pull domestic part too. I buy and sell parts all the time.

35plus yr of parts pulling exp.fast, and careful, with an eye for detail.I pull only parts that I would use for my own personal vehicals.

I've been a mechanic for about 35 years.I'm now disabled but can still do what I enjoy most.working on cars.let me be your go to guy for all your parts.dependable and trustworthy.

I get the big jobs done. I have the tools the get any in done as well as the knowledge to use impeach tool.

I will remove any part for you! I have lots of camaro firebird Mercedes corvette parts Let me know call text 5593603641

Let me know what you need from row52 and i can get it to you. Im willing to ship you pay shipping fee. 20 yr experience.

I am a from home mechanic with 8 years of experience under my belt. I work on all makes and models.

hey whats up. i have no problem pulling parts from any car and i have a decent amount of knowledge when it comes to car parts

I've worked on my own cars for forty years and have my own tools know a lot about cars n truck parts

10+ years experience. Worked at pnp 4 years ago. Have own tools and can install part for additional price

Cars are my passion especially the old ones. I could spend everyday all day at wrecking yards pulling parts off something dead to take and help rebuild the life of something still holding on.

I can pull anything you want for a very reasonable priceI like what I do for a livingI'm fastand I make sure to do the job right

Been working on and repairing cars for over 10 years now can pick parts pretty quick. Worked on many different vehicles so i u need a part i am your puller

I am knowledgeable in dismantling parts with care and can pull anything off any car you need.

Used to be an Archaeologist, then became a Technology Manager, now I'm a grease monkey. It ain't Archaeology, but it beats I.T. I describe myself as an auto enthusiast. I've done it all cause I love cars. Hit me up!

I'm not a mechanic, but mechanically incline. I work doing packing and shipping, so if there is a part you need that I can send to you, I'll typically pull it on the weekend and ship it on Monday.

Mechanic with over 10 years experience I can pull any part. And install the parts on ur car as well

Professional low-cost part remover. I've been taking apart, and rebuilding engines since grade school. I will get you the part you need, when you need it. When there is no one to depend on, you can depend on Cody.

Over 35 years in automotive business. I will pull your part just call or text me at 209-988-2214

Hi,I figure I'm always at pick n pull pulling parts why not help some one out if I can ... Love working on cars... It's my hobby .. So if u need a part give me a text an ill pull it for you.thx I hope you have a good day

Hello my name is juan I dont live at pick and pull but I dont have a problem going to pull parts at any given time.

I'm Danny you can call me for car parts to be pulled out for you we can decide on price for parts and labor in very reasonable and im experienced 559-477-7623

Familiar with many makes and models of vehicles, and can pull any part you need expect engines or transmissions.

Primarily interested in Boxer Engines and/or Rear Engine cars. That said, I am mostly browsing the areas of Volkswagen, Subaru & Porsche vehicles.