PICK-n-PULL Moss Landing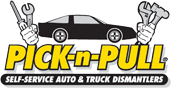 Address

516B Dolan Road

Moss Landing, CA 95039

Phone
(831) 632-4201
Hours
Mon-Fri 9:00 am - 5:00 pm

Sat-Sun 8:00 am - 5:00 pm
LINKS
Website | Part Pricing | Yard Map
Vehicle

Info

Yard

Row

Added
Message me with what part you need,your cell and zip included for quote! Paypal before pull. Takes care in pulling your part and doesn't rip you off. Doesn't pull motors or transmissions!

i am at the yards quite often, im a mechanic with 30 years experience and i speak english only

SJSU business student, 8 year mechanic. Expertise in Japanese cars, diagnostics, electronics, and component repair, but can work on and do just about anything but rebuild a transmission! Can also help source anything. :)

I was trained in auto repair originally from my father (daddy's little tomgirl!), and then had formal training later on. I am willing and able to help get your parts to you.

A.S.E Certified Tech i have 25 years in the autorepair industry i can find and pull your part and deliver or ship and I can install if you need.im avail 7 days a week best to TEXT me Direct 831-205-8587 Dave.

I HAVE 17 YEARS IN THE AUTOMOTIVE TRADE AM VERY PERSONAL CAN PROVIDE YOU WITH ALL YOUR AUTO NEEDS

I mainly deal with chevy trucks ,1967-1972 and some newer, I can pull any part .if you need parts for these trucks and pull a lot and resale them also ,also deal with Dodge Trucks 1995-2003

30 YEARS EXPERIENCE mechanic. Old cars my Specialty! Quality Service. I will not Pull parts without a Down payment.Not financing. It costs time and Money! Thanks.

im an star level smog tech, I have 3 ase certificates, and a few impact cordless snapon tools. Im in monterey county " gonzales ca" within 25 miles of a mosslanding premier picknpull, pickpull, and other 4 yards.

I have over 25 years in the automotive restoration business I specialize in Honda vehicles but iam well versed in all makes foreign and domestic.

If I can find your part in my yard I will. Or I will do my best at least. If you have special requests feel free to ask

I can pull parts on the weekends and my days off. I can do most jobs, from engines to rear ends and most of the things in between.

Live near Moss Landing yards. Can pull parts on short notice. There is no good deal that is not a good deal for everyone involved so please be as reasonable honest and upfront as I am with you.

Company Name: MechUnique Contact: Richard Lane (cell - 831-421-2308) Experience: 20+ years automotive from parts dept. helper to Toyota Certified Technician and Master Asst. Service Manager. Eager and able to assist.

Over 10 years experience in American vehicles. Some knowledge in foreign vehicles but can pull anything. No full engines or transmissions. PayPal first, then pull. Need cell and name at initial contact.

I'm a college graduate who is taking on learning mechanics on my own. I'm looking to make some extra money to travel the country by helping you fix your car. I'm great with the internet and I'll be in touch ASAP!

My name is Omar and I work on cars on spare time. Have a good knowledge of parts and vehicles. Here to help.

Primarily interested in Boxer Engines and/or Rear Engine cars. That said, I am mostly browsing the areas of Volkswagen, Subaru & Porsche vehicles.

Hows it going guys!!! Need any certain parts let me know a lot of cars are around at this time of year. If u need parts pulled if needed to be tou change ed up and primered before matching paint? Anything im here

Just a garage mechanic,with some free time. Don't mind helping someone out when needed. Trying to keep myself busy. Thanks!