PICK-n-PULL Newark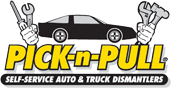 Address

7400 Mowry Avenue

Newark, CA 94560

Phone
(510) 742-2277
Hours
Mon-Fri 9:00 am - 5:00 pm

Sat-Sun 8:00 am - 5:00 pm
LINKS
Website | Part Pricing | Yard Map
can't reply from website. cellphone, best to contact 4087683700 prepaid service only. will ship same day. can go any yard if money is not your problem. Note: I don't check website 2 read messages.

Expert parts puller and mechanic. Can pull any parts at a fair, competitive price. Will send pictures of cars and parts from yards if needed. Thank you.

I'm a jeep guy, owned a YJ for 10 yrs. now have an XJ. Will pull parts for any make and model. I do Interior and electrical. I am an Electrician by trade. Will also travel to Sac. Area

An automotive enthusiast. Honest,reliable, and reasonable. Familiar with Audi, BMW, and Volkswagen. But like anything on wheels.

i am at the yards quite often, im a mechanic with 30 years experience and i speak english only

Love cars and getting dirty. Located in the bay area, and these are the parts I am happy to pull : engines, transmissions, body, electrical, exhausts, suspension, ect. Safe, honest, reliable. Holler. Txt! 415-754-3155

Professional Mechanic with over 30 years experience and a man with integrity. Let me know what you need and let's get you those parts!

SJSU business student, 8 year mechanic. Expertise in Japanese cars, diagnostics, electronics, and component repair, but can work on and do just about anything but rebuild a transmission! Can also help source anything. :)

Parts Puller in : Richmond -- Fairfield -- Newark -- Oakland -- Windsor -- San Jose North -- San Jose South ------ * Contact me for more information.

The name of the game is the same but the rules have changed. Visit my website & read the "FAQs" & "Things to Consider" prior to contacting me. Thanks. www.1AUTOCONCEPT.com -Kevin

Female car enthusiat CEO of import royalty car club owner of a 96 ek civic dont be fooled even if im a female i know my car infos and i be working on hella cars any day its a passion

58YO,CERTIFIED MECHANIC WILL PULL YOUR PART AND DELIVER MIT OR YOU MEET ME,WILL COMMUNICATE FROM YARD OR WHATEVER

Specialize in import cars especially RWD Toyota/Nissan BUT I can pull most anything or figure out how to. For any inquires please be as specific as possible..

I mainly deal with chevy trucks ,1967-1972 and some newer, I can pull any part .if you need parts for these trucks and pull a lot and resale them also ,also deal with Dodge Trucks 1995-2003

What started out as a hobby quickly turned into a full time passion. Let me know what your looking for. LOCAL DELIVERIES AN OPTION! Thanks Rich

I will pull any part you need fast and for a great price. send me the Car & Part info and lets get what you need. All of my pulls come with USPS Priority Mail Service get to you in 2-3 days.

I have 12 years exp. as a puller will deliver personally if local hit me up will get you your part in no time

Back yard mechanic and enthusiast. Specialize in BMW and Land Rover, but willing to pull from anything. Extensive knowledge on BMW e36 and Land Rover Discovery.

All makes in models I work on. I take paypal payment only half of the cost is due of the part and payment when hired. Rest is cash when delivered . I live in Daly city ,but all ways in the bay area pick n pull triangle.

I'm a certifed automechanic can pull part for you and also install them for you plus if needed can also diagnos your car or truck for you with reasonable priceing

I've been pulling parts since the 80's from auto wreckers. I'm within 30 minutes of 4 Pick-n-Pull yards and at the yards about once a week. I prefer old school cars and VW/Audi but can pull just about anything.

Been working on mitsubishi's for a long time. I've always been a fan of the DSM world. I can pull parts from any imports (Honda, Toyota, Mitsubishi) or Chevy cars. Can pull from anything really, just tell me what it is!

30 YEARS EXPERIENCE mechanic. Old cars my Specialty! Quality Service. I will not Pull parts without a Down payment.Not financing. It costs time and Money! Thanks.

Experienced,fast, reliable, flexible, with the know how to pull ur part and reinstall if needed. Auto body Tec and mechanic

I can try to find you any part you are looking for. I am a female but love wrenching on cars...lol.

Pretty handy with tools and work on my own stuff. Not a certified mechanic, just a do-it-yourself type car guy. I also go to SJ South, Sacto, Oakland, Richmond.

If you want the best >>>Call me !! I've been wrenching since I was 9 yrs old. I do it all and there's very few that are quicker with the quality I provide. I keep your best Interest #1

long time acatic will pull any part you need for any vehicle and deliver possibly within the Bay Area same day service

20 years experience as a licensed mechanic. I have a complete set of hand tools, cutting tools, welding set up, diagnostic/test set up, Excellent knowledge of systems and used car parts inventory.

is my name is rich I've been working on my own car since I was 12 years old and I'm 45 so I can basically pull anything or fix anything

I could possibly pull a part for someone. Not in the business, or a mechanic, but have a few basic tools and occasionally might go to a yard. Not on Row52 everyday, tho'. Not really in it to make money, more as a hobby.

Hi I like to work on cars I have 2 projects that I'm workin on right now and I have. Then morning I'm open to work for u guys

Available on weekends . Located in the Bay Area, Engine's, Transmission's, trim pieces etc..Any make or model. Local pickup or shipping available. Paypal accepted

Need a part? no time? no problem, pull and ship same day and don't have to break the bank to get it.

US Based. Cheap OVERNIGHT shipping. Contact (text preferably) me for any parts you may need and I'll look for you! (510) 676-9919

I can pull parts for you no trans or engine because I don't have a suitable vehicle to transport them. Local meet up or shipped. Text is preferred form of communication 510-529-1865

I live in the Bay Area of Ca if I have spare time I wouldn't mind helping a few folks out. I've been working on my own cars for years now so I know a little bit about cars.

I only pull parts that appear to be new. I also collect spare parts for mostly Lincoln Town Cars.

New to the program NOT the yards. Been pullin for 38 yrs. So, if you want fast, professional service, I've got Pick N Pull next door and more along my way. SF East Bay to the CA Central Valley. What can I Pull 4 You?

Been a junk yard dog for 20 years. Specialize in Audi/VW. Also familiar with BMW, Mercedes. Worked at top Bay Area shops.

Hello Everyone I am able to pull almost everything, bigger items will cost more of course. I am an Eagle Scout so very trustworthy. Take some pictures of what you need, good pictures please. Thanks for your time.

I'm always looking for parts for myself and will help you get what you need too while i'm there.

I specificly work with mitsubishi family of cars, if there anything eles message me and I can get back to you.

I've been working on my cars for years. I enjoy helping people out. I know BMW a good amount as well.

Am a retired Heavy Duty Equipment Mechanic who like to still feel a wrench in my hand. Work on all my own Equipment as well as our family Vehicles.

Over ten years of pulling and Auto repair, mechanix and body repair. im very organized and own or have access to any/all tools/equipment. Si hablas espanol!

Just a garage mechanic,with some free time. Don't mind helping someone out when needed. Trying to keep myself busy. Thanks!