PICK-n-PULL Redding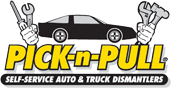 Address

19919 Viking Way

Redding, CA 96003

Phone
(530) 221-6184
Hours
Mon-Fri 9:00 am - 6:00 pm

Sat-Sun 8:00 am - 5:00 pm
LINKS
Website | Part Pricing | Yard Map
Vehicle

Info

Yard

Row

Added
PLEASE Email @ oneclassic_70@yahoo.com or text me 831-206-9612. I text you pics to verify parts prior to pull. any cancellations after pulling parts will be min $10 fee.

Have 30 years as auto mechanic.I charge $30.00 per Hr. yard admission W/$15.00 min. can pull most any part.

i have been an autoglass installer for 20 years.I will pull the glass you need damage-free. I am also available to install the glass in your vehicle. I get $25-$40 per extraction, and $40 per install.