PICK-n-PULL Redding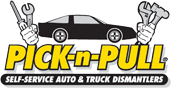 Address

19919 Viking Way

Redding, CA 96003

Phone
(530) 221-6184
Hours
Mon-Fri 9:00 am - 5:00 pm

Sat-Sun 8:00 am - 5:00 pm
LINKS
Website | Part Pricing | Yard Map
Vehicle

Info

Yard

Row

Added
Hello! My name is Thomas Secrest and I am a professional automotive repair technician at Tom's Automotive where we have just celebrated our 14th year in business! If you need a part let me know!! (530)360-0711 (text)

Text me as to what you need. Please include vehicle info and what row it's on in my yard. Thanks Troy 831-206-9612 or email me at oneclassic_70 @ yahoo.com

i have been an autoglass installer for 20 years.I will pull the glass you need damage-free. I am also available to install the glass in your vehicle. I get $25-$40 per extraction, and $40 per install.

i've been working on cars for over 20 yrs and have very extensive knowledge of any and all parts of a vehicle

Hi i am at pik n pull so much that one of the counter persons told me that he only knew of 1 other person doing it and that i should sign up. I take my time to not brake anything and believe this would be honest income.

Have 30 years as auto mechanic.I charge $30.00 per Hr. yard admission W/$15.00 min. can pull most any part.

I am available to pull parts and I have 20 years experience in the automotive repair industry.

I have 5 years of experience working with vehicles. Usual days I'm able to get to parts are Friday and Sunday. If you have any question send me a message @ Row52. Ebay user id is mobilemechanic530 if you prefer paypal.

I am a retired veteran with a passion for working on cars, and finally the time to do it. I am always working on some thing and I am always at pick n pull I might as well help other out who don't have the time.

Hello I'm Ryan I'm familiar with lots of mustangs performance and OEM .as well as Honda; acura and many other vehicle makes

If its on a VW I can pull it for you. Also can do most mid-late 90's Fords. Text 707-498-5532 for pricing. I can also help you pull parts off of any other vehicle.

Im a very thorough an detail orientated person,an know how it is to have to wait for parts to arive.especially when you have no weels.if you need it done right an want it fast im your man😁

I listed Redding and Chico Pick-an-Pull yards as my home yards, but also frequent Antelope, Rocklin Rancho Cordova and Sacramento as well.