PICK-n-PULL Redding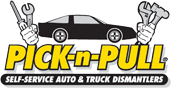 Address

19919 Viking Way

Redding, CA 96003

Phone
(530) 221-6184
Hours
Mon-Fri 9:00 am - 5:00 pm

Sat-Sun 8:00 am - 5:00 pm
LINKS
Website | Part Pricing | Yard Map
Will send pics via Cell phone to ensure correct parts. please send me pics of what you need. please provide ways to contact you.. thanks.. MY email is oneclassic_70@yahoo.com

Have 30 years as auto mechanic.I charge $30.00 per Hr. yard admission W/$15.00 min. can pull most any part.

i have been an autoglass installer for 20 years.I will pull the glass you need damage-free. I am also available to install the glass in your vehicle. I get $25-$40 per extraction, and $40 per install.

I will love to pull parts off any thing in the Redding Ca yard...rain or shine...im super fast and best part is i live directly behind the yard here in Redding...