PICK-n-PULL Richmond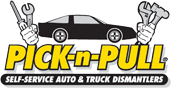 Address

1015 Market Avenue

Richmond, CA 94806

Phone
(510) 233-7311
Hours
Mon-Fri 9:00 am - 5:00 pm

Sat-Sun 8:00 am - 5:00 pm
LINKS
Website | Part Pricing | Yard Map
Vehicle

Info

Yard

Row

Added
Due to family medical issues I will not be pulling parts at this time. I am fulfilling requests previously received, but am not taking on new requests at this time.

Hello, I am a VW mechanic and can assist you with any concerns you have on your vokswagen. Send me a message with any questions and I will get back to you. I am currently doing service maintenance & diagnostics only.

I'm a jeep guy, owned a YJ for 10 yrs. now have an XJ. Will pull parts for any make and model. I do Interior and electrical. I am an Electrician by trade. Will also travel to Sac. Area

Love cars and getting dirty. Located in the bay area, and these are the parts I am happy to pull : engines, transmissions, body, electrical, exhausts, suspension, ect. Safe, honest, reliable. Holler. Txt! 415-754-3155

Parts Puller in : Richmond -- Fairfield -- Newark -- Oakland -- Windsor -- San Jose North -- San Jose South ------ * Contact me for more information.

Female car enthusiat CEO of import royalty car club owner of a 96 ek civic dont be fooled even if im a female i know my car infos and i be working on hella cars any day its a passion

Semi retired master tech will pull any part any vehicle anytime. Expert lowest cost shipping experience and very reasonable rates. Jeep MJ/XJ lover here!

58YO,CERTIFIED MECHANIC WILL PULL YOUR PART AND DELIVER MIT OR YOU MEET ME,WILL COMMUNICATE FROM YARD OR WHATEVER

Will pull your parts possibly deliver, mail or meet up...we are a team so what I don't know he does when I'm n I think strong enough to wrench it he isaid will charge u cost of part plus 20% labor fee and then cost of m

I will pull any part you need fast and for a great price. send me the Car & Part info and lets get what you need. All of my pulls come with USPS Priority Mail Service get to you in 2-3 days.

Been working on mitsubishi's for a long time. I've always been a fan of the DSM world. I can pull parts from any imports (Honda, Toyota, Mitsubishi) or Chevy cars. Can pull from anything really, just tell me what it is!

I VISIT THE YARD ONCE OR TWICE A WEEK. LET ME KNOW WHAT YOU NEED AND I WILL SEE IF I CAN HELP

30 year tech, been going to the Fairfield and Richmond yards for years. Pulled over 36 engines in the past 10 years and haven't pulled a bad one yet! Knock on wood.!

long time acatic will pull any part you need for any vehicle and deliver possibly within the Bay Area same day service

Experienced Automotive technician, specializing in the removal of requested parts in a timely manner, professional and courteous

is my name is rich I've been working on my own car since I was 12 years old and I'm 45 so I can basically pull anything or fix anything

Available on weekends . Located in the Bay Area, Engine's, Transmission's, trim pieces etc..Any make or model. Local pickup or shipping available. Paypal accepted

Over 30 years in the automotive repair industry. I favor European manufactures . Same day service and shipping available .

I only pull parts that appear to be new. I also collect spare parts for mostly Lincoln Town Cars.

I am a part time part puller I can pull most parts cheap and am usually in Richmond and Oakland

I am knowledgeable in dismantling parts with care and can pull anything off any car you need.

Working on cars for years specialize in Toyota and Mercedes, electrical, ac and basic maintenance. I follow basic ase regulations.

Company Name: MechUnique Contact: Richard Lane (cell - 831-421-2308) Experience: 20+ years automotive from parts dept. helper to Toyota Certified Technician and Master Asst. Service Manager. Eager and able to assist.

Been a junk yard dog for 20 years. Specialize in Audi/VW. Also familiar with BMW, Mercedes. Worked at top Bay Area shops.

i went to school work for my self as a technician at home goto pic n pull daily ,i can always use some extra cash i will do shipping but you pay it

Hi I'm Elizabeth, I have grown up working on cars and things with my dad. I work nights and when I'm free during the day I don't mind pulling parts that are requested.

I've been working on my cars for years. I enjoy helping people out. I know BMW a good amount as well.

BEEN PULLING ENGINES SINCE 16 IN OAKLAND STARTING AT 4TH AND BROADWAY. REBUILD ANYTHING AND AM A SKILLED FABRICATOR WITH THE MILLER MACHINE.

Hi I'm an honest hard-working mechanic. LOVE everything about cars and learn more and more the longer I stay involved in this Trade. Willing to travel pretty much anywhere in CA to pull parts for whoever needs them

Im an all around guy I've worked on cars of many makes and models, so if you have any questions and would like to contact me my number is available so please call if I don't answer please leave me a voice mail or text.

15-plus years of experience working on Volvo 240s, Redblock engines, some Mercedes models and Japanese cars. Will pull parts and also install for you. Email is best way to reach me. I accept Paypal payments. Thank you.