PICK-n-PULL Stockton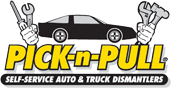 Address

3927 Clark Drive

Stockton, CA 95205

Phone
(209) 462-1927
Hours
Mon-Fri 9:00 am - 5:00 pm

Sat-Sun 8:00 am - 5:00 pm
LINKS
Website | Part Pricing | Yard Map
Vehicle

Info

Yard

Row

Added
If the heat dont kill me I'll give a shot very experienced PnP parts puller. pulling chevy parts for 20 yrs can pull your part or work along side you ,LEAVE TEXT NUMBER to contact ,RWD TRANS PULLS 100 RWD ENG PULLS 250

Expert parts puller and mechanic. Can pull any parts at a fair, competitive price. Will send pictures of cars and parts from yards if needed. Thank you.

45 years experience. Constantly working on restoration projects and at recycle yards. Willing to help you out. $2 Entry, $40 hr on the yard, cost of part + Shipping. Antelope and Stockton add $30 R/T travel & gas.

Specializing in third gen camaro 92+ caprices have lots of ecms proms and chips hit me up with lists of parts wanted thanks

I am willing to go and pull parts for anybody that need them pulled and check them out that will be including gas to go and check that out if you would like me to I will send pictures if you requested pictures to be sent

10 plus years in retail salvage yard sales I wouldn't sell something that I wouldn't put on my own car in Sac

Need parts or repairs contact me at 209-818-2719. Looking to pull parts for extra money. If the price is right I will travel 100 mi+ Advanced Engine Performance Specialist 609 Certified for HVAC Smog inspector

can pull any parts needed...specialize in toyota and honda...20plus years in auto parts...low price same day delivery with in 100 miles

I am an all round mechanic. I specailize in engines but i also know some electrical and some transmission. No job is too big or too small. luis.jaramillo.33@facebook.com

please kindly pull left fender and rear seats and front brackets seats and call text me if still available 6502284209 mike tnx

I have 20 years of automotive repair experience. If you pick it we will pull it and if you need it to be installed we also can provide that service.

I usually pull import part but I can pull domestic part too. I buy and sell parts all the time.

Names Brandon, Ive been around cars my whole life and like working on this, Im just a small backyard mechanic, Im respectful and reliable

Hello my name is Branden, if your in need of my assistance when trying to pull a part or in need of pulling a part, feel free to ask for my help. Thank you for your time in advance

I will remove any part for you! I have lots of camaro firebird Mercedes corvette parts Let me know call text 5593603641

Pretty handy with tools and work on my own stuff. Not a certified mechanic, just a do-it-yourself type car guy. I also go to SJ South, Sacto, Oakland, Richmond.

Avoid the hassle of driving your car or having it towed to a service center. I will service your car at the convenience of your home or office, 7 days a week. 30% lower than the dealer.

I'm recently attending Universal Technical Institute in Sacramento. I been working on cars at a early age. Cars are my passion and never get tired of working on them. I like modifing my car and making it faster.

hey whats up. i have no problem pulling parts from any car and i have a decent amount of knowledge when it comes to car parts

I have several years being a mechanic in all types of cars, trucks, and heavy equipment. In addition, I'm a highly qualified fabricator with my own shop and mobile welding truck.

I can pull parts that weigh less than 5lbs. I'm at yards everyday. I ship, take paypal, and western union.

Cars are my passion especially the old ones. I could spend everyday all day at wrecking yards pulling parts off something dead to take and help rebuild the life of something still holding on.

I'm not a mechanic, but mechanically incline. I work doing packing and shipping, so if there is a part you need that I can send to you, I'll typically pull it on the weekend and ship it on Monday.

New to the program NOT the yards. Been pullin for 38 yrs. So, if you want fast, professional service, I've got Pick N Pull next door and more along my way. SF East Bay to the CA Central Valley. What can I Pull 4 You?

Been working on cars for 30 yrs. So even if you have questions I'll be happy to answer. Servicing Stockton to Sacramento and in between.

para toda la jente de abla hispana estoy disponible de 8am a 1 pm para hir por tu parte si no tienes tiempo ablemos gracias

Detailed, reliable, fast and efficient. Between My father and I, we have tore down and rebuilt over 75 vehicles and countless motors, from as small as the ones that operate DVD videos, all the way to V8 460cc.

Hello my name is juan I dont live at pick and pull but I dont have a problem going to pull parts at any given time.

Affordable, Experienced Mechanic, Diagnostic tech and engine builder. Will locate and pull any part! Pick up, Delivery and shipping available. Installation service and support available if needed! Contact Dylan 24/7!!

Experienced puller and active in restoration and repair of Vintage European makes and models. Specialize in Porsche Audi Alfa Romeo SAAB

I visit pick n pull yards regularly and there is no job to big. If its there ill pull it!!!!! engines transmissions drive lines interior My rates are very reasonable and I am willing to ship.

I pull all sorts of parts from any and all 4 cylinder cars I have extensive skill with Mitsubishi,Hyundai, Kia, Chrysler Mitsubishi and many other imports.

cellphone, best to contact 9097581017 prepaid service only. will ship same day. can go any yard if money is not your problem. Note: I don't check website 2 read messages.

Looking for a high quality,organized parts puller?I like perfection and want to complete the job on the first try while delivering the highest quality of disassembly.Every penny counts and short cuts cost more in the end

Been wrecking yard part pulling since 16 (25 years now). I'm in Sacramento area, but occasionally in Bay Area. I'm into 60's & 70's Vans if you know of any around.

Honest, and committed to my jobs. I charge the parts price, labor and shipping. Im here to do what you need done, with skill and determination. I look forward to working for you.

willing to pull any parts needed except transmissions and motors . will pull all body parts interior parts , i will also send pictures and rate quality of parts there on a 1-10 scale will use high quality camera

I am a HVAC technician and i live a lifestyle of the import scene been loving the import scene since 90's It's part of my life...I am very reasonable on selling cars and buying cars...

I have plenty of mechanic experience i can pull the part, deliver the part, and install the the part in a quick and timely manner

Audi & VW Specialist + imports. I get the parts u need & ship nationwide or deliver in NorCal + Private mechanic services. Honest & Fair. Most Payments accepted via PayPal or Cash or Ask me about 90day financing!

I can pull any part you need, engines, transmissions, axels, body panels. and I can ship small items. feel free to send me a detailed text of the vehicle you have and the part you are looking for. 916-868-7664

Determined individual with a B.S. in Mechanical Engineering who enjoys wrenching and mechanic work on automobiles and bikes.

I love working on vehicles. Went to college for a bit majoring in automotive. I have no problem working in any weather conditions rain or shine I'm here to help get your vehicle up and running for you. Text or call.