PICK-n-PULL Stockton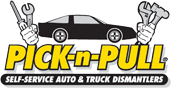 Address

3927 Clark Drive

Stockton, CA 95205

Phone
(209) 462-1927
Hours
Mon-Fri 9:00 am - 6:00 pm

Sat-Sun 8:00 am - 6:00 pm
LINKS
Website | Part Pricing | Yard Map
avail 24 hrs a day, very experienced PnP parts puller. pulling chevy parts for 20 yrs can pull your part or work along side you ,LEAVE TEXT NUMBER to contact ,RWD TRANS PULLS 100 RWD ENG PULLS 250

Long time parts puller and mechanic. Import and export. Affordable. Fast shipping. More then willing to answer any questions you may have. Please email me directly at Matlock.Vince@Gmail.com Thank you

10 plus years in retail salvage yard sales I wouldn't sell something that I wouldn't put on my own car in Sac

Casual picker for personal use mainly. Resell some parts. Can pull just about anything besides engines/engine internals or transmissions.

In the summer of 1981 the Saab dealer in berkley needed a tech that had transmission experiance Steven Elliott started with Saab. Steve is a Toyota Diagnoistic Master Tech. call (510) 695-0569

I am a mechanic doing buying and selling cars. I fix cars thus I go to Pick N pull for parts.

10 YEARS OF EXPERIENCE. THERE IS NO LIMIT TO WHAT I CAN AND WILL DO. LABOR CHARGES ARE FLAT RATE. CONTACT ME AT (209) 594-4987. THANK YOU.

can pull any parts needed...specialize in toyota and honda...20plus years in auto parts...low price same day delivery with in 100 miles

I love working on cars whenever I have the chance to do so and no homework is awaiting in my desk (CE Major!). I started from a simple tune up all the way to complete engine rebuilds. Garage based! :P

Im a thirty year mechanic with all the special tools to see that your part is pulled without damage.Im fast and reliable.I also take all major credit cards

I specialize in japanese cars (mainly nissans) but I can pull parts off mostly any car. I can travel to any yard in the sacramento area or stockton.

I am an all round mechanic. I specailize in engines but i also know some electrical and some transmission. No job is too big or too small. luis.jaramillo.33@facebook.com

I've been in the auto repair industry for over 10 years. Live in Vac but 5 close to FF. Daily runs Any part/make/model and fast install at a fraction of any shop rate. Glass Body Eng Elec Tires

ase certified i used to own my smog station will get what u needed upon payment 1st can do half n half or if i meet u in person will consider work 1st

please kindly pull left fender and rear seats and front brackets seats and call text me if still available 6502284209 mike tnx

I have a certificate in automotive repair and I have the tools and knowledge to remove any part

I have 20 years of automotive repair experience. If you pick it we will pull it and if you need it to be installed we also can provide that service.

I go to the local yard once a week. I enjoy scavenging for rare parts or just a simple replacement part. I am usually in the European/imports section. Let me know what you need. Thank You

I usually pull import part but I can pull domestic part too. I buy and sell parts all the time.

My buddy and I make weekly trips to pick n pull. Let us know what your looking for, and we will keep an lookout for you. We also ship parts (no engines/trans) can deliver if you are in our area.