PICK-n-PULL Tallahassee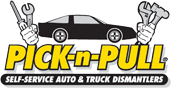 Address

3900 State Road 363

Tallahassee, FL 32305

Phone
(850) 878-4119
Hours
Mon-Fri 9:00 am - 5:00 pm

Sat-Sun 8:00 am - 5:00 pm
LINKS
Website | Part Pricing | Yard Map
Vehicle

Info

Yard

Row

Added
i have a private yard of 88-91 honda civic and crx parts cars. I pull parts from this yard evey two weeks.

I pull parts from late models and incorporate them into my 79 F150. I'll pull what you want short of engines, trannys and sub frames.

I pull quality Florida rust-free parts. I will give you a quote, you Paypal me, I send part. If for whatever reason I can't get part, I will refund your money immediately.

My name is Brad I'm from Cairo Georgia I'm 30 I'm fast reliable experienced I'm down to earth people pleaser customer friendly and ill get what you need in a timely fashion

hi I'm located in Tallahassee Florida is very reasonable with prices and get the car Parts real quick frome engines to lights .thanks for picking me as your part puller

I live in Tallahassee and have knowledge of mostly Chevrolet/GMC & Jeep vehicles. I can pull & deliver most parts in Tallahassee.