PICK-n-PULL Tallahassee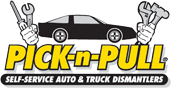 Address

3900 State Road 363

Tallahassee, FL 32305

Phone
(850) 878-4119
Hours
Mon-Fri 9:00 am - 5:00 pm

Sat-Sun 8:00 am - 5:00 pm
LINKS
Website | Part Pricing | Yard Map
Vehicle

Info

Yard

Row

Added
i have a private yard of 88-91 honda civic and crx parts cars. I pull parts from this yard evey two weeks.

hi I'm located in Tallahassee Florida is very reasonable with prices and get the car Parts real quick frome engines to lights .thanks for picking me as your part puller

10+ years working on and servicing vehicles. I am also the owner of Rapid Roadside here in Tallahasee. We provider stranded motorist with assistance to get them back on the road. Been in business for 3+ years!

Local parts pulled I usually sell euro parts but don't mind helping people out with other makes.

Owner/ mechanic of Service On Site mechanics Here we offer affordable local mechanic repairs and parts dismantling along with shipping. we also accept credit/ debit cards through square.

Let me know what you need from row52 and i can get it to you. Im willing to ship you pay shipping fee. 20 yr experience.

Just an old school hot rodder from the South. Years experience,tools,etc.If you need it,I will do my best to help ya. Have access to other yards.call or leave a message anytime.You want it,I'll get it!