PICK-n-PULL Waco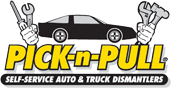 Address

14401 North Interstate Highway 35

Elm Mott, TX 76640

Phone
(254) 829-2886
Hours
Mon-Fri 9:00 am - 5:00 pm

Sat-Sun 8:00 am - 5:00 pm
LINKS
Website | Part Pricing | Yard Map
I prefer to only pull parts on Volvo's but can pull parts on any cars. $80 to pull transmission. $80 to pull engine. I can ship as well. 972 388 4233 Mike Call/Text/Email Pmartinez28@yahoo.com

I'm 17 still in high school trying to make some extra money to fix up my square body. I love pulling parts and fixing things and can do just about anything.

I have been working on and restoring cars for 35 years. I am in the Waco area between Dallas and Austin, TX. Please contact me for your parts pulling needs.

I can get you any part that you need quickly. It doesn't matter if you need a engine, transmission, starter, radiator, fender hood, door hinge, whatever...i can pull it 4 u and know how to pick the good ones!!!

We are family owned and operated and have been serving the Central Texas area for more than 20 years. We believe that all businesses are customer service driven. We make your needs our prime concern. We are bonded.

Offer pull and installation services upon request. Will ship most items within 1 business day. Accept Cash and if shipping is required will take PayPal as well. Invoice will be generated upon request.