What Kind of Row52 User Are You?
Based on your needs, Row52 categorizes users into different types. The four distinct user types on Row52 can be listed as follows:
Parts Buyers are people in need of a used auto part. Buyers can obtain the desired part by:
Conducting an online Row52 vehicle search for inventory at a nearby yard, visiting the yard and pulling the part on their own
Creating a Parts Wanted listing or directly contacting a Parts Seller to get help locating a part (most Parts Sellers will ship you a part if they aren't local)
Finding the part in the Parts For Sale section and buying it directly
Parts Sellers are individual people or businesses that have registered to sell parts on Row52 through two different ways:
Listing parts in inventory directly on the "Parts For Sale" section of Row52
Pulling parts and quoting a price to Buyers that have previously requested assistance via a "Parts Wanted" listing
Self-Service Auto Recycling Yards are businesses that have hundreds of used vehicles on display and they permit customers to walk amongst the vehicles and remove the parts they wish to buy.
Full-Service Auto Recycling Yards are businesses that also have a large inventory of used vehicles. However in this business category, the yard employees remove the parts ahead of time and stock the parts individually to make them available for sale. They do not permit buyers to remove the parts.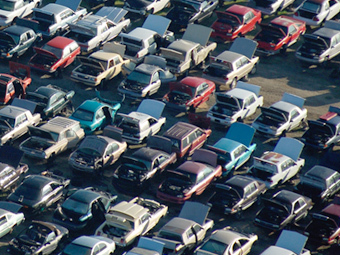 Site Features
Since each user has distinctive needs, we developed services to cater to each of them. These services are available throughout Row52, and include the following:
Parts For Sale

– This portion of the site is where Parts Sellers list auto parts that they wish to sell to Parts Buyers.

Vehicle Search

– This page allows users to search through inventory at any of our many participating yards to view pictures and vehicle details, decode VINs and identify available candidate vehicles to investigate for replacement parts.

Parts Wanted Listings

– This page is where users in need of a part can post their parts request in hopes that a Parts Seller can locate what they need, sell it to them at a reasonable price and even ship it to them, if necessary.

Set Alerts

- If the desired vehicle cannot be found, any user can set up a custom alert to be notified when the vehicle they need gets set.

Parts Seller page

– The Parts Sellers page permits those Parts Sellers that wish to self-identify as someone willing to pull parts for others for a negotiated fee.

Inventory Upload

– Yard owners and yard managers can post their vehicle and part inventory along with full details and photos.

Auto Yards

– Locate a yard and easily look up its hours of operation, address and phone number, as well as part pricing lists, yard maps and website links, where available.
Part Pricing
There is no cost to access the site, become a Parts Seller, add a yard's vehicle inventory on the site or create a Parts Wanted or Parts For Sale listing.
The final price is provided by the Parts Seller and can vary based on various factors such as: cost to obtain the part from a yard, anticipated shipping costs, taxes (if applicable), time and expense to obtain the part.