PICK-n-PULL Tumwater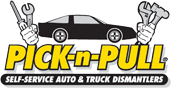 Address

8010 Old Highway 99 SE

Tumwater, WA 98501

Phone
(360) 357-4466
Hours
Mon-Fri 9:00 am - 5:00 pm

Sat-Sun 8:00 am - 5:00 pm
LINKS
Website | Part Pricing
Vehicle

Info

Yard

Row

Added
GUARANTEED QUICK RESPONSE!! I instantly check all my messages. Im in the yard everyday. I can pull the Part. I can ship the Part. I can delivery locally.

Retired Army aircraft mechanic. I have over 20 years of buying repairing and flipping vehicles. I'm able to accurately identify and quickly pull any part you need. Send text 425-245-3103 (include vehicle and part)

I restore cars and been a mechanic for the last 40+ years. I send picture(/s) of the part along with the estimated cost for part and labor. Most the labor is flat rate. You want the part you let me know.

Unfortunately I have been unable to make it to a yard in months. Currently it would be in your best interest to utilize a different Puller. Sorry for any inconvenience this may cause for you.

Can pull anything for you at great prices, Take credit, debit, paypal. Must be paid before hand.

If u need it. Ill get it.. my girlfriend is also a puller mrsrissa. Its a team thing. We can also install

Certified Welder looking to help other car owners. I take care not to damage anything when removing specific parts and have the right tools for the job.

Volkswagen Parts from Golf ,Jetta, Cabriolet, Rabbit, Scirocco ,Vanagon ,Call 206-403-3835 .Ask for Robert

I have been building and racing cars for over 35 years. Now I organize racing events & work for myself so am free 7 days a week. I do this for hobby so make a fair offer and I'll pull your part for less.

Hi I'm Robert I specialist in all Japanese cars Toyota, Lexus , Honda , acure, datsun,Nissan, and infinite

I'm an ase certified technician and am available 7 days a week I live a half mile away from the Tacoma pick n pull

Hi, to everybody!.. my name it`s Ralph I`m proffesional mechanic diesel and gas. with experience 30-40 yrs.several kind of mechanic and system`s work specialize in automatic transmissions.

24 years under my belt professionally. Weekend helper now that I no longer do this in a shop. If you need a quick part, or a part changed contact me, I may be able to help.

I'm not real active, nor do I deal with large V-8s or transmissions, I'll supply parts for small ford trucks.

Fast reliable puller at your service. Can often times do the repair upon request. negotiable prices.

Engineer up north in Dutch harbor. At the Tacoma and tumwater yards all the time for jeep parts.

My boyfriend is a mechanic and we come across lots of cars, and have lots of spare parts, especially on Chevy trucks and cars. I am able to go to various pick a part lots in the Northwestern states

I pull parts, rain, snow sun, morning-evening. if you dont want to get dirty, call me, I will pull parts for ypu, for a fee.

Hello there I am a Vet going to school and studying automotive. Looking to make extra cash pulling parts. Can ship and or deliver to reasonable distances with additional fees.

I've been building cars for 21 years, so as long as my tool collection includes any special tools needed I can pull your part

5 ASE Certifications, 19 years experience, and an automotive technology degree mean that you will get your part in great shape, ready for you to install. Cleaning and overhaul/repair of most parts available. PM Me.

I can pull parts as far north as Tacoma and as far south as Vancouver. I can ship though if you are outside of these locations.

i am available to pull parts you need. i specialize in acura legends, but also do honda and other japanese vehicles

Extensive knowledge working on cars and doing repairs. Ive been turning wrenches since I was old enough to sit on a fender well and help my grandpa.

I'm a father of three with a love for German and Swedish engineering. I've got an 89 Volvo 240 and a 93 Audi quattro wagon. Let me know what parts I can pull for you!

i will pull almost any part you need (if vehicle is available) always careful and for a fear price for both of us.

I'm Lucas. My specialty pulls are Kaiser/American/Jeep. Part charge (@yard price) + Pack/Ship @$20. Buff cleaning service @$30. Yard photos free. I offer local help on Fri-Sat. Call 48hrs in advance.

I'm from the Seattle area been in the construction field 30 years. Very mechanically inclined. Looking to make some extra money in my spare time and when at a yard pulling parts .

Active duty military with 25 years experience rebuilding engines, transmissions, drivetrains, and anything else you can think of. Honest and dependable. Thanks

I am available on a fairly limited basis to check on parts and/or pull smaller items. Occasionally I might have the ability to pull larger items of things work correctly. Just ask!

I am 20 years old and I have worked on cars since I was 16. I have spent countless hours in the junkyard and have worked in a shop for 6 months. I can pull just about any part from any car; I've got a full set of tools.

I live close to the Tumwater Yard and I'm out there almost every weekend. I have 35 years of automotive experience. I have extensive knowledge regarding US cars and Subaru's but will consider work on any car or truck.

The parts you need at a rate you want. Part Pull and Part locate service. Local Delivery and Install or Shipping or Freight available. Accept Paypal, Google Wallet, Credit/Debit Card, or Cash. Deposit required.