PICK-n-PULL Columbus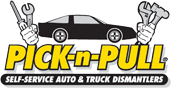 Address

2716 Groveport Road

Columbus, OH 43207

Phone
(614) 497-9193
Hours
Mon-Fri 9:00 am - 5:00 pm

Sat-Sun 8:00 am - 5:00 pm
LINKS
Website | Part Pricing | Yard Map
Hello all my name is John im a diesel mechanic for the last 30 plus years i can pull anything and ship any thing nothing to large nothing too small best way to contact me is my cell 614-607-3955 i ship ups carbon neutral

U need it I get it if I yard has it .. i have the tools u name your price and I'll save u receipts so u know costs

I occasionally visit the Columbus, Ohio Pick-n-Pull looking for old Cadillac parts and other GM related things. I travel from Greenfield, Ohio to do so.

I've been working on car for the past few years if you need it I'm sure I can get it I don't do full engines or RWD transmissions i can get parts off of engines but i can do all other exterior and interior parts

I will pull any part you need big or small. I am not out to make a lot of money so yes I'm cheap. you pay for part and my yard entrance. based on how hard it is to get makes my price you will know before i enter the yard

Been wrenching on cars for 10 years started because I got tired of paying high prices, have spent a good deal of time pulling parts from both pick n pull and u part it.

24 year old auto enthusiast, part time mechanic shop employee, work on motorcycles in spare time. More familiar with later model Toyota's but am an eager learner and not afraid to get my hands dirty

I have been working on cars for 5+ years, can get you just about any part you need and can ship also if needed.

I am a shade tree mechanic of nearly 30 years. I live close to 2 of the largest parts pulling yards in Central Ohio and frequent them often.

my name is terry, ive been working on cars for over 30 years, im sure I can help with whatever u need done, I go to other yards in Columbus also. I also buy and sell cars, let me know if I can help

Years experience working on Volvos. Will pull any part from any Volvo. As a courtesy, I will include a paper copy or PDF of the factory replacement instructions. Just supply me with your VIN.

Experienced working on German cars, especially Mercedes-Benz and BMWs. I also have worked on Land Rovers and have owned 10 Ford Crown Victoria Police Interceptors. I've sold parts as a hobby on eBay for over 14 years.

I've been working on cars my entire life and am ready and willing to help you get the parts you need! No engine/trans pulls.

Dealing with parts for over 25 years, have been around mostly imports, but can still pull and work on domestics. Very fair priced in labor and will make sure parts work correctly before being shipped or installed.

IT Pro who enjoys rebuilding cars. if I am in the yard I can grab anything you need within reason.

Weekend Parts-Puller. Professional, courteous, honest, trustworthy - I'm the boy scout of parts pullers.

Hello my name is AJ, I reside in Columbus OH. I have many salvage yards around and close by me that I pull parts from. I have been in pulling parts for my clients for many years. I'am fast and reliable and I get it done.

I am very mechanically inclined. I can pull any auto part from about any vehicle. My prices are negotiable. Please text or call me in person. Thank you and have a great day!!!

I am a junk yard dog! I love to hunt for parts and like to pull parts for family and friends so I want to add you to my list. I would love to help you and would just need a reasonable fee for my time.

experience in all fields of the right part you need,Been pulling parts for years and can find yours,

My name is james ive worked at 4 yards as parts puller now ive got my self certified have small garage on westside columbus there nothing i cant figure out when it comes to working on cars jleroysowards@gmail.com 24hr

Been a huge car lover since I was young, enjoy building, doing fab and custom work on cars. I have a few good connections on finding used parts for a reasonable prices. Let me know if I can help.

55 shade tree mechanic. I can take any part off and ship to your place. Eagle Scout and WVU business grad

Vocational school training. 10 years fixing cars on the side. very busy in summer I lay blacktop but can always find time to help some that's been in the same position as me.

I have 17 yrs of Automotive experience. Will pull parts to fulfill customer's needs. I Don't Pull- Engine / Trans Please contact by text 6149461426 and we will talk about cost and payment options

I've been tearing apart and working on cars for the past six years. I'm at a junk yard usually once every week or two. I also buy cars to part out. If a junk yard doesn't have a certain part, I can usually find it.