PICK-n-PULL Lynnwood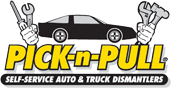 Address

18306 Highway 99

Lynnwood, WA 98037

Phone
(425) 778-3147
Hours
Mon-Fri 9:00 am - 5:00 pm

Sat-Sun 8:00 am - 5:00 pm
LINKS
Website | Part Pricing | Yard Map
Vehicle

Info

Yard

Row

Added
I can pull the parts u need ship them if small please leave a good working cell number i must talk to u before i drive to any yard please send cell # & what car & year (907)123-4567 1999 Chev truck !!EXAMPLE!!!

I am here to help people get the right parts so they can fix their cars.I can pull anything you can contact me at 206 423 7155 please text if possible thank you

GUARANTEED QUICK RESPONSE!! I instantly check all my messages. 206-473-0549. Text or Call. Im in the yard everyday. I can pull the Part. I can ship the Part. I can delivery locally.

Hi my name is jr and iam in the yard a lot so if u need motor or trany. Pulled or anything else i'll be happy to help i do check parts be for pulling

10 YEAR Master tech looking to pull parts for you! Message me! No engine, Trans, diff pulling sorry. I can ship parts too! PAYPAL VERIFIED / EBAY BUSINESS FEEDBACK AVAILABLE! BUSINESS OWNER!

I was an employee of Pick-N-Pull and previously Pull A Part for 8 years. Great interchange knowledge, and report with a few of the current Pick-N-Pull employees, as well as a few other local yards.

I can pull it, ship it, install it depending on your needs. I specialize mostly in 92-97 F-series and Taurus . $35 an hour

From daily commuters to Hod rods and even Kit cars, I have been turning wrenches for over 20 years. Let my experience help you. Shipping available . Getting parts off corectly.

As a part time activivity, I prefer only pulling Volvo parts and especially 1978 and older. I usually go to the Lynnwood and Arlington yards twice a week. I'll take pictures for free if I have already planned a trip.

Can pull anything for you at great prices, Take credit, debit, paypal. Must be paid before hand.

Heading over to the Seattle WA area soon and would love to pick some parts for anyone that needs stuff along the way! Smalls are easiest for me to ship and pull !

My name is Kilian. I work as an automotive technician for myself and buy and sell vehicles. I have a flexible schedule for parts pulling.

I work as a mechanic, and specialize in suspension. Been pulling parts for a few years, for other shops, friends and myself. Can pull suspension components, body panels, engine parts, and drivetrain.

Been working on cars for over 30 years, will pull anything but engines and transmissions in the winter, so if your in the King county area and need a part call me. Neg. On labor for pulling part. Scot

I have five and a half years of experience working at a NASCAR track whelen all american series. I was the crew chief of the 2011 track champ.

I hit the local yards about once a week at least. If you need anything let me know. I specialize in Ford but they are all just nuts and bolts to me. I know how to spot a good part and can ship fast.

Parts at cost Will show receipt. Can help install as well. All picking or installation on a donation basis. Pay what its worth to you, I do this on a Part-Time/Hobby basis.

Hi, to everybody!.. my name it`s Ralph I`m proffesional mechanic diesel and gas. with experience 30-40 yrs.several kind of mechanic and system`s work specialize in automatic transmissions.

Experienced Auto Electric Tech. Quality & Professional Work. All makes/models. Classic-Current. OEM / AFTERMKT / CUSTOM Troubleshoot / R&R / Install Stereo/Video/Security/Misc. PWR: WIndows, Locks, Lights, Wiring,

I am a hobby mechanic and maintain my own vehicles. I can pull simple parts like drive shafts, alternators, power steering pumps, interior parts, etc.

I love working on cars. I do all my own work on my car and I do it right. I have a lot of free time and I am available to pick up a part anytime. Make my day by letting me make yours.

Working on Hondas is my hobby so I'm the yard often drop me a message and I can snag what you are searching for! PayPal only! And must cover shipping costs

Employed full time, so this is a side job for me. I specialize on Fords (I also have a large inventory of Ford parts already pulled), but willing to pull any part from any vehicle.

my name is Jason I can get you any part you need can also install the part on your vehicle for youreply here or call or text 425 984 4275

20+ years pulling parts from various vehicles including motorcycles. You can trust me to remove the part(s) you need professionally, avoiding damage to part & associated hardware. I offer shipping for smaller parts.

I'm a father of three with a love for German and Swedish engineering. I've got an 89 Volvo 240 and a 93 Audi quattro wagon. Let me know what parts I can pull for you!

Hi my name us shane and I live in Lynnwood right next to pick and pull. If you need anything off a car that is up in my area I would be more than happy to help you out for a fee.

im Sean I do a complete job and get the part you need you will receive everything down to the nuts and bolts to install your new used parts as long as if your part is available

Hi, My name is Mark. Even though I have never been a professional mechanic, I have worked around vehicles over the course of the past 30 years. I will work hard to find you the right part, and make you satisfied.

Speedy Parts. We can pull any part needed as well as provide same day shipping & delivery services. Please feel free to call, text or email for scheduling, pricing, shipping & delivery options.

I have been a mechanic for over 20 years. I have done mechanic, parts,service advising. I have have a mobile mechanic business as of now. If you want some parts to? Lets see if we can make this ez 4 me and U

I am quick; means you get the part as soon as posible. Detailed; means you get the right part and all components required or asked for. Foreign and Domestic; means there is no vehicle that i cant do. My word and name.

Will pull most any part you need . Will install @ $35 per hour , shipping available , 30 year journeyman mechanic , specializing in transmission rebuilding , my name is Tim send me a message ... I will get back to you

I specialize in Toyota 4runners and pickups, along with Mk1-Mk3 VWs. Just let me know what you need.

I only live about 5 miles away the Lake Stevens' Northwest Auto Recyclers. I work close to the Lynnwood Pick'n'Pull as well. I have a truck for large parts and plenty of tools. I also have a "helper".

if it is in the yard i got you text/call 3603228005 pick up only let me know if you need a hand thanx have a nice day

I have most tools needed, and the know how. No part is too big. Available to pull just about anything in the yard inventory. Various shipping carriers available.

Weekend part puller, been working on cars for 8 years now. On the yard every weekend and shiping parts out Monday. Pictures available before mailing the part.

Very well qualified to pull just about anything you may need, with great knowledge of vehicles throughout and I can usually pretty well do a evaluation of the parts to be pulled to be better assured that parts are good.

Hello I'm an experienced German car mechanic, I am also very good with domestic vehicles. Let me know what you need. Thanks Tim S.

35 years plus experience in mechanical repairs and rebuilding we specialize in BMW repairs, customizing, coding, relearning, programming, unlocking features, engine & transmission rebuilds, body repair & painting & more

Im Brandon, I love working on cars, and helping other people work on theirs! if you're looking for a part, I can pull it/ship it. text me if you need a specific part 360-359-6371.

Names Matt BourboulisI own my own v8 pickup and have been wrenching on cars for 10 years. I grew up in a single mother household with 0 extra money so when my $500 beaters broke down it was either fix it or go without

Very knowledgeable. I come prepared , with tools and positive attitude. Was professional mechanic for 3 years. Would prefer cash only.

I am equipped with basic automotive tools, and have located and installed used parts for many years. I am also experienced in maintenance and repair of common American and Japanese vehicles built from 1960-2010.

"I was raised WORKING foreign and domestic vehicles and installed glass, body parts, repaired and replaced PARTS from every MAKE UP TO 2018 ..I know cars and trucks and how to take CARE OF THEM. CALL AND TXT FOR PULLS."

I buy and sell cars for a living. If you need any parts pulled please let me know. I will also install for a fair price. I will only pick the part if it looks good.

Active Auto Technician for the last 7 years. From foreign to domestic, i do it all. i visit pick n pull for parts at least twice a week if not every other day.

I enjoy taking cars apart, I have multiple car project and I have gone to the junk yards multiple times. You could say I'm a junk yard veteran. Let me get you your parts.

Able to find, replace and or remove parts from cars, trucks and other applications. Lowest Price In Washington! Mobile Mechanic for Over 20 Years! Also worked for good known Automotive Repair Shops in the Northwest.