PICK-n-PULL Rancho Cordova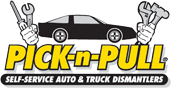 Address

3419 Sunrise Boulevard

Rancho Cordova, CA 95742

Phone
(916) 635-2027
Hours
Mon-Fri 9:00 am - 5:00 pm

Sat-Sun 8:00 am - 5:00 pm
LINKS
Website | Part Pricing | Yard Map
Vehicle

Info

Yard

Row

Added
Just let me know what you need and I'll get it for you quickly. I've got all the brand new Kia and Hyundai parts that you can't get. Paypal is gladly accepted and I can ship anywhere but it is not included for free.

45 years in the Automotive Repair industry. Constantly working on my own restoration projects and on the hunt for parts at local recycle yards. Willing to help you out with your part needs.

Specializing in third gen camaro 92+ caprices have lots of ecms proms and chips hit me up with lists of parts wanted thanks

Engine Transmission and small parts anything you need I'll get it for you fast and professional call Ed please text or call 916 410 3128 thank you the phone is the easier option for me I will get back to you right away

I am willing to go and pull parts for anybody that need them pulled and check them out that will be including gas to go and check that out if you would like me to I will send pictures if you requested pictures to be sent

10 plus years in retail salvage yard sales I wouldn't sell something that I wouldn't put on my own car in Sac

Need a part I might just have it up my sleeve. Just let me know I'm new to parts pulling but have 4 years automotive experience and pull parts weekly with my friends for our cars

I live down the street from the Rancho Cordova yard, and can easily verify, or pull any part.

I am 2-3 minutes away from various auto/truck yards. i can have your part the same day no problem!

12 year experience in Automotive repair and parts. Will pull almost any part. Pay Pal accepted.

I can work on anything can get any part. Nothing to big or small. Plus do automotive work out of my personal shop at home. All tools possible and car lift.

I have 20 years of automotive repair experience. If you pick it we will pull it and if you need it to be installed we also can provide that service.

I usually pull import part but I can pull domestic part too. I buy and sell parts all the time.

My name is Billy- I have worked in the Automotive field for over 20 years. I have worked at junkyards, mom & pop shops, franchise shops, used car dealers, etc. I pay close attention to detail and always get the job done.

Just your average Dad, keeping all the family vehicles on the road put me in the junkyard regularly

Notify me about IMPORTS parts. Other then that, not me as a Part Puller. I'll send you a number after you let me know about the parts i can pull an get. Thank You CaSpAr4Rm916

Worked on Vehicles ever since I was 10 years old (24 years). Worked in the automotive parts Industry for 10 years. More knowledgeable with Fords (particularly mustangs). Had more hands on work on GM's.

Hi, I'm Russ! I have 20 yrs. experience working on cars & picking parts. While Toyota & Suzuki are my specialties, I am familiar with all makes/models. I will assure you that every part I pick is with the utmost of care!

I 'M A ASE MASTER MECHNIC & KNOW MY STUFF BUT NO WORRIES YOU SAVE $$$ ON PARTS YOU NEED THAT WRECKERS DON'T EVEN HAVE! CONFIDENCE IS KEY WITH TEXTI & EMAILING PICTURES OF PARTS(PAYPAL, FAST SHIPPING UPS USPS FEDEX)

Pretty handy with tools and work on my own stuff. Not a certified mechanic, just a do-it-yourself type car guy. I also go to SJ South, Sacto, Oakland, Richmond.

Auto tech work full time. Will pull just about anything else, if the price is right. Specialize if you will in mazda and have owned a 200sx se-r... Other then that i hate euro cars, everything sucks on those.

If you want the best >>>Call me !! I've been wrenching since I was 9 yrs old. I do it all and there's very few that are quicker with the quality I provide. I keep your best Interest #1

I'm recently attending Universal Technical Institute in Sacramento. I been working on cars at a early age. Cars are my passion and never get tired of working on them. I like modifing my car and making it faster.

I have been an automotive mechanic for over 12 years. Specializing Japanese and German vehicles.I am not often checking this site. PLEASE CALL AND/TEXT ME 916-936-9242.

I have several years being a mechanic in all types of cars, trucks, and heavy equipment. In addition, I'm a highly qualified fabricator with my own shop and mobile welding truck.

specialize in BMW, VW, Volvo, and all Europeans. Need a part, let me know. We can discuss price. Thank you

I been repairing my own car for years with decent knowledge and will be happy to find your part while I am in the yards.

Over 25 years experience getting parts from Pick N Pull. I am familiar with all the yards and can help you save money.

im 21 I've been working on cars since i was 12 im friendly will take pics of every part i pull before purchase. always willing to make deals

Over 30 years in the automotive repair industry. I favor European manufactures . Same day service and shipping available .

5 years mechanic experience through Independent Oil Change Shop.. Will Deliver and install for extra, otherwise you pick up.

Been working on cars as a hobby for 30 years. I've got above knowledge of Saab 9-3's, but I can take most anything apart.

I'm a dependable,hardworking skilled automotive and diesel technician who loves mechanics work!

Parts that I pull are complete bushings,bolts, etc. I'm reasonable and I like to think I do honest work. For the right price I'll make sure you get your part by the end of the day. I accept all forms of payment, w/Flint

Been working on cars for 30 yrs. So even if you have questions I'll be happy to answer. Servicing Stockton to Sacramento and in between.

para toda la jente de abla hispana estoy disponible de 8am a 1 pm para hir por tu parte si no tienes tiempo ablemos gracias

Detailed, reliable, fast and efficient. Between My father and I, we have tore down and rebuilt over 75 vehicles and countless motors, from as small as the ones that operate DVD videos, all the way to V8 460cc.

Been wrenching since 11 years old. Very clean and organized. Also know most tricks to identify if the part is worth using

Hello my name is juan I dont live at pick and pull but I dont have a problem going to pull parts at any given time.

BMW service tech. formerly an apprentice in a vintage racecar fab shop. I am well rounded and familiar with foreign, domestic, classic, and modern vehicles. I know quality when I see it. (707) 454-6062

Experienced puller and active in restoration and repair of Vintage European makes and models. Specialize in Porsche Audi Alfa Romeo SAAB

Hello my name is Eric and I am an ASE certified auto mechanic. I started out wrenching at a very young age in my fathers shop. He tough me to be fast honest and to have the best price as well as very detail oriented.

I visit pick n pull yards regularly and there is no job to big. If its there ill pull it!!!!! engines transmissions drive lines interior My rates are very reasonable and I am willing to ship.

Would like to Stay in the GM Side of the Yards. Antelope is my Preferred yard. Not able to pull much large items. I wouldn't pick/sale something I wouldn't use. 12V Electronics over 20 years.

Hello, my name is Casey. I have my associates degree in Automotive Technology from American River College. I am open to pull just about any part (Engines and Transmissions are need to be discussed).

I pull all sorts of parts from any and all 4 cylinder cars I have extensive skill with Mitsubishi,Hyundai, Kia, Chrysler Mitsubishi and many other imports.

Been wrecking yard part pulling since 16 (25 years now). I'm in Sacramento area, but occasionally in Bay Area. I'm into 60's & 70's Vans if you know of any around.

I am a trained mechanic, although I am not currently employed as such. I love working on cars and have no problem helping people with their projects by getting the parts they need.

Am a retired Heavy Duty Equipment Mechanic who like to still feel a wrench in my hand. Work on all my own Equipment as well as our family Vehicles.

Greetings to all, my name is DBlount and I am an ASE certified Automotive Technician. I have over 8 years as a professional. I am available to pull any part in any yard in Northern California. Call or text 5105867030.

Entry Level Auto Body Technician 4yrs. One more year to meet the 5 year experience that is required for the ASE Exam and Become a Certified Journeyman. Part Pulling Is an Easy Task.just time consuming.

I am a good person; loyal, truthful, & will not scam or rip anyone off. My services; I can probably pull just about anything for a decent price. Accept all payments, willing to ship anywhere. Please leave reviews, thanks

I am a dedicated man who enjoys helping other people especially when it has something to do with vehicles.

Hello, I specialize in mostly vehicle customization, forced induction ( supercharger, turbocharger ) , and all other cosmetic, and performance enhancements, engine & transmission swaps. I do imports and domestic muscle

I am a highly skilled mechanic who lives at pick and pull. Certified diesel mechanic as well. I can fix anything and everything

Hi I'm an honest hard-working mechanic. LOVE everything about cars and learn more and more the longer I stay involved in this Trade. Willing to travel pretty much anywhere in CA to pull parts for whoever needs them

Im an all around guy I've worked on cars of many makes and models, so if you have any questions and would like to contact me my number is available so please call if I don't answer please leave me a voice mail or text.

dismantling is my speciality, i can get any part without any damages and all parts are clean and tested.

Audi & VW Specialist + imports. I get the parts u need & ship nationwide or deliver in NorCal + Private mechanic services. Honest & Fair. Most Payments accepted via PayPal or Cash or Ask me about 90day financing!

I can pull any part you need, engines, transmissions, axels, body panels. and I can ship small items. feel free to send me a detailed text of the vehicle you have and the part you are looking for. 916-868-7664

I've just recently became a car person after getting my first car and fixing everything on it myself. I've been able to learn how to replace my radiator, alternator, tires, camshaft oil seal, oil changes, and thermostat.

Auto/Diesel Mechanic For 12 Years. Will Pull Parts And Deliver/Ship If Necessary. Installation Services Are Also Available.

I have done everything from mechanic to running a shop. I pull parts once they are tested and verified they are functional whenever possible. I am at any one of these locations a lot. Let me know what you need!