PICK-n-PULL Sacramento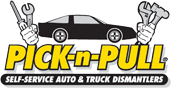 Address

7600 Stockton Boulevard

Sacramento, CA 95823

Phone
(916) 689-1985
Hours
Mon-Fri 9:00 am - 5:00 pm

Sat-Sun 8:00 am - 5:00 pm
LINKS
Website | Part Pricing | Yard Map
Vehicle

Info

Yard

Row

Added
My schedule does not allow me to pull much, but happy to provide advice and information when I can.

Engine Transmission and small parts anything you need I'll get it for you fast and professional call Ed please text or call 916 410 3128 thank you the phone is the easier option for me I will get back to you right away

If the heat dont kill me I'll give a shot very experienced PnP parts puller. pulling chevy parts for 20 yrs can pull your part or work along side you ,LEAVE TEXT NUMBER to contact ,RWD TRANS PULLS 100 RWD ENG PULLS 250

Casual picker for personal use mainly. Resell some parts. Can pull just about anything besides engines/engine internals or transmissions.

Just let me know what you need and I'll get it for you quickly. I've got all the brand new Kia and Hyundai parts that you can't get. Paypal is gladly accepted and I can ship anywhere but it is not included for free.

i am at the yards quite often, im a mechanic with 30 years experience and i speak english only

Hello! My name is Thomas Secrest and I am a professional automotive repair technician at Tom's Automotive where we have just celebrated our 14th year in business! If you need a part let me know!! (530)360-0711 (text)

Specializing in third gen camaro 92+ caprices have lots of ecms proms and chips hit me up with lists of parts wanted thanks

Hi i'm Mike Moreno. I am a certified mechanic who graduated from Universal Technical Institute in 2013. I have since been working as a Mechanic for Volvo BMW & Saab, am very experienced with all types of vehicles

Hello my name is Ryan. I been pulling parts and working on cars/trucks for over 15 years. I am a certified Auto Repair Technician. I look for the best parts available and ship ASAP. I accept Cash,Paypal, and atm/credit

10 plus years in retail salvage yard sales I wouldn't sell something that I wouldn't put on my own car in Sac

Need a part I might just have it up my sleeve. Just let me know I'm new to parts pulling but have 4 years automotive experience and pull parts weekly with my friends for our cars

I live down the street from the Rancho Cordova yard, and can easily verify, or pull any part.

I am 2-3 minutes away from various auto/truck yards. i can have your part the same day no problem!

I am a mechanic doing buying and selling cars. I fix cars thus I go to Pick N pull for parts.

12 year experience in Automotive repair and parts. Will pull almost any part. Pay Pal accepted.

I can work on anything can get any part. Nothing to big or small. Plus do automotive work out of my personal shop at home. All tools possible and car lift.

I have 20 years of automotive repair experience. If you pick it we will pull it and if you need it to be installed we also can provide that service.

I usually pull import part but I can pull domestic part too. I buy and sell parts all the time.

I have been pulling parts for my cars since I was a teenager. I now take my daughter yards and I am teaching her to pull parts for her Mustang. I know how frustrating it can be when you can't find a part you need.

Carson City local, so thats the yard im primarily pulling parts from right now, having problems with pay pal so cant take payments now. pay for parts and shipping through phone i just hand the phone off at checkout

Hi i am at pik n pull so much that one of the counter persons told me that he only knew of 1 other person doing it and that i should sign up. I take my time to not brake anything and believe this would be honest income.

Just your average Dad, keeping all the family vehicles on the road put me in the junkyard regularly

Notify me about IMPORTS parts. Other then that, not me as a Part Puller. I'll send you a number after you let me know about the parts i can pull an get. Thank You CaSpAr4Rm916

Worked on Vehicles ever since I was 10 years old (24 years). Worked in the automotive parts Industry for 10 years. More knowledgeable with Fords (particularly mustangs). Had more hands on work on GM's.

I cant pull any part you need, ive been working on cars for years its my lifestyle.. i build race cars to perfection you can trust me!

Hi, I'm Russ! I have 20 yrs. experience working on cars & picking parts. While Toyota & Suzuki are my specialties, I am familiar with all makes/models. I will assure you that every part I pick is with the utmost of care!

I 'M A ASE MASTER MECHNIC & KNOW MY STUFF BUT NO WORRIES YOU SAVE $$$ ON PARTS YOU NEED THAT WRECKERS DON'T EVEN HAVE! CONFIDENCE IS KEY WITH TEXTI & EMAILING PICTURES OF PARTS(PAYPAL, FAST SHIPPING UPS USPS FEDEX)

Auto tech work full time. Will pull just about anything else, if the price is right. Specialize if you will in mazda and have owned a 200sx se-r... Other then that i hate euro cars, everything sucks on those.

i am able to locate and pull parts that you need or you pick I pull I ALSO work at pick n pull and i know what inventory comes into our yard

Hey everyone. Yes I can be a parts puller. I am a girl and I love getting greasy. I've worked on and around cars my whole life. To this very day I have my own shop. 916-969-5743

I'm recently attending Universal Technical Institute in Sacramento. I been working on cars at a early age. Cars are my passion and never get tired of working on them. I like modifing my car and making it faster.

I have been an automotive mechanic for over 12 years. Specializing Japanese and German vehicles.

I have several years being a mechanic in all types of cars, trucks, and heavy equipment. In addition, I'm a highly qualified fabricator with my own shop and mobile welding truck.

I can pull parts that weigh less than 5lbs. I'm at yards everyday. I ship, take paypal, and western union.

Experienced tech with 5yrs in trade . Also available for hire . Email me here-runabout7072510@gmail.com.....................b.................... ???????????????

specialize in BMW, VW, Volvo, and all Europeans. Need a part, let me know. Text me at 209-244-6173. We can discuss price. Thank you

I been repairing my own car for years with decent knowledge and will be happy to find your part while I am in the yards.

Over 25 years experience getting parts from Pick N Pull. I am familiar with all the yards and can help you save money.

I have been working on cars for the past 30 years. I am familiar with BMW and Saabs mostly. I can pull anything you may need

im 21 I've been working on cars since i was 12 im friendly will take pics of every part i pull before purchase. always willing to make deals

Over 30 years in the automotive repair industry. I favor European manufactures . Same day service and shipping available .

Been working on cars as a hobby for 30 years. I've got above knowledge of Saab 9-3's, but I can take most anything apart.

I've been in auto dismantling and repair for 10+years, I have extensive knowledge with jeep Honda Toyota Mercedes BMW and Nissan to name a few. A majority of my time is free on the weekends.

I have been working on cars since I was old enough to hand my dad a wrench. I have been making a living as a mechanic for the past 21 years. I have worked as a technician in both auto body an auto/diesel mechanics.

Hello My name is greasemonkey51. Located in northern California, I hit up pick n pull at least once a week. Let me know if there is a specific part ill do my best to find it asap. Any questions message me. Thanks

I love pulling parts, I'm happy I'm able to help others because then they can definitely get the job done faster

hi if u need help to pull a glass out a car please contact me i can help u, 12 years of experience530-921-2015 redding

Over 35 years in automotive business. I will pull your part just call or text me at 209-988-2214

Parts that I pull are complete bushings,bolts, etc. I'm reasonable and I like to think I do honest work. For the right price I'll make sure you get your part by the end of the day. I accept all forms of payment, w/Flint

Been working on cars for 30 yrs. So even if you have questions I'll be happy to answer. Servicing Stockton to Sacramento and in between.

I can remove any simple part and not trying to remove whole engines. But I can remove any other part for you and arrange a price. I am fast and courteous and will get the part you need.

Long time Jeeper and muscle car hobbyist. Very meticulous in the 'yards' and will make sure to only pull quality parts for you! Contact me via text message for fastest response, email is fine too. -Jon

I am a certified mechanic, work on all makes and models. I come to PNP quite a bit with a full tool box. Let me know what you need and we can work out a price. Cash/PayPal/Google Wallet/WalMart Money Transfer accepted

Hi, I work with my Dad who is a Outstanding Mechanic! He has decades of years of experience fixing cars and is a ex professional Part Puller. We specialize in BMW but can pull anything you need! Feel free to message me!

I'm new to the parts puller program. I can pull just about anything you need, just let me know.

Detailed, reliable, fast and efficient. Between My father and I, we have tore down and rebuilt over 75 vehicles and countless motors, from as small as the ones that operate DVD videos, all the way to V8 460cc.

Been wrenching since 11 years old. Very clean and organized. Also know most tricks to identify if the part is worth using

Willing to pull most small/medium parts from Sacramento area pick-n-pull yards on weekends. Sorry no engines/trans at this time.

BMW service tech. formerly an apprentice in a vintage racecar fab shop. I am well rounded and familiar with foreign, domestic, classic, and modern vehicles. I know quality when I see it. (707) 454-6062

Experienced puller and active in restoration and repair of Vintage European makes and models. Specialize in Porsche Audi Alfa Romeo SAAB

Hi I'm Elizabeth, I have grown up working on cars and things with my dad. I work nights and when I'm free during the day I don't mind pulling parts that are requested.

I'm fully trained mechanic in Citrus Heights. I enjoy going to pick n pull for leisure time, as you never know what you might run into. If you need help getting a part pulled, I'd glad to help you out.

I visit pick n pull yards regularly and there is no job to big. If its there ill pull it!!!!! engines transmissions drive lines interior My rates are very reasonable and I am willing to ship.

Hello, my name is Casey. I have my associates degree in Automotive Technology from American River College. I am open to pull just about any part (Engines and Transmissions are need to be discussed).