PICK-n-PULL Salt Lake City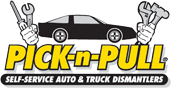 Address

585 State Route 171

West 3300 South

Salt Lake City, UT 84115

Phone
(801) 264-0359
Hours
Mon-Fri 9:00 am - 6:00 pm

Sat-Sun 8:00 am - 6:00 pm
LINKS
Website | Part Pricing | Yard Map
Vehicle

Info

Yard

Row

Added
Fast, professional, LOW COST help. Cash or credit cards accepted. Ship anywhere in continental U.S. Will install your part too! (Wasatch Front only.) Sorry, no engine or transmission pulls.

Auto nut, I've been working on vehicles since I was about 15 and have built many vehicles from the ground up. I'm a very good mechanic. I work at Precision Tune Auto Care as a Mechanic.

We have been pulling parts for picknpull for over 3 years. We can pull the part for you and you can pick it up there our shop or we can ship the part to you. We do offer installation 801-989-3003

I'm at this parts yard daily, If you need a part i'll get you the part. Contact me 801-589-3708

Hi, I am a 28 yr old with about 13 yrs exp and needs something to keep him busy. low rates txt 801-682-0666

I've been working in the automotive industry for 15 years and counting. I have the knowledge and expertise to help you get the part you need. I'm honest, reliable, and eager to help out. Let me know how I can help you.

30 years experience as a foreign car tech, specializing in BMW and Mercedes but can work on anything. I charge $35 hour 1 hour minimum

I specialize in pulling engine and transmissions, window motors and doors. I can also install these parts. Good pricing feel free to contact me for a quote. Thanks for reading! Matt 801-386-4422

Shade tree Mechanic, Do every kind of repair in Personal Shop. Specialize in Import repair, and performance. Off road fab, and hobby.

Offer some help if you need a part and is too far away to come and pull by yourself, Speak English, Español and Papiamento, pull and shipping service

Been a DIY mechanic for my whole life. Can't ever bring myself to pay retail for car parts. Love to go and pick parts Friday-Sunday. Let me know what I can pull from a yard for you.

specializing in engines and transmissions including all foreign cars including European fwd or awd

My name is Jeff. I'm an experienced scrap yard parts puller. I have 6 different yards around my place. If you need anything at all just ask and we can work something out. I can pull parts and send them anywhere you need.