PICK-n-PULL Salt Lake City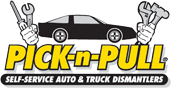 Address

585 State Route 171

West 3300 South

Salt Lake City, UT 84115

Phone
(801) 264-0359
Hours
Mon-Fri 9:00 am - 5:00 pm

Sat-Sun 8:00 am - 5:00 pm
LINKS
Website | Part Pricing | Yard Map
Vehicle

Info

Yard

Row

Added
Auto nut, I've been working on vehicles since I was about 15 and have built many vehicles from the ground up. I'm a very good mechanic. I work at Precision Tune Auto Care as a Mechanic.

I've been working in the automotive industry for 15 years and counting. I have the knowledge and expertise to help you get the part you need. I'm honest, reliable, and eager to help out. Let me know how I can help you.

I am a honest hard worker. My time is spent working on cars of all makes. I am usually at the yard a few times through out the day. If you need it I will try to get it for you. I like helping people out.

I'm at this parts yard daily, If you need a part i'll get you the part. Contact me 801-589-3708

30 years experience as a foreign car tech, specializing in BMW and Mercedes but can work on anything. I charge $35 hour 1 hour minimum

I specialize in pulling engine and transmissions, window motors and doors. I can also install these parts. Good pricing feel free to contact me for a quote. Thanks for reading! Matt 801-386-4422

Shade tree Mechanic, Do every kind of repair in Personal Shop. Specialize in Import repair, and performance. Off road fab, and hobby.

Offer some help if you need a part and is too far away to come and pull by yourself, Speak English, Español and Papiamento, pull and shipping service

Been a DIY mechanic for my whole life. Can't ever bring myself to pay retail for car parts. Love to go and pick parts Friday-Sunday. Let me know what I can pull from a yard for you.

specializing in engines and transmissions including all foreign cars including European fwd or awd

My name is Jeff. I'm an experienced scrap yard parts puller. I have 6 different yards around my place. If you need anything at all just ask and we can work something out. I can pull parts and send them anywhere you need.

Fast professional help. Cash or credit cards accepted. Can install your part too! (Salt Lake Valley only.)

I have been working on cars and trucks since I was young. I own a '71 Caprice and '78 Power Wagon. I am interested in helping people get hard to find parts, as I have a hard time finding parts for my classic cars.

I always provide fast, professional, and LOW COST assistance. I accept cash or green dot money pack card's for your Convenience and ship anywhere in continental U.S. I am needing the payment for the part upfront.

Let me know what you're looking for and I'll do my best Larry Silverstein to "pull it" for you ;-)

I have been a mechanic for over 30 years, and have worked with heavy equipment and large trucks at Freighter of Utah

hello my name is cameron i can pull most parts and will be able to ship most parts as well i will deliver parts within the salt lake area

Multiple yards multiple times per week 20 years mechaic exp. No job to big or small engine and transmission pulls okay please call or email with any questions.

My name is Rich Flowers and I have been turning a wrench for 10 years and got the tools to get what is listed.

Specialize in pulling German parts quickly but I can get whatever is needed. I pull parts on Saturday mornings. I can pull anything from engines & transmissions to trim. Contact me via Row52.com or text 801-888-4510.

Hi, I am a 30 yr old with about 13 yrs exp and needs something to keep him busy. low rates txt 801-682-0666

I enjoy working on fixing and repairing cars as my hobby and have had 3+ years of mechanic and shop experience and also student ASE certified. I also enjoy helping other people with their cars. Drive a 72 chevy blazer.

I love taking long walks in junkyards, grease under my fingernails, and a cold beverage or two at the end of a long day...seriously though, I will only pull the best quality parts and I will clean them up before sending.

Always like to help people and buy sell and work on auto. 30+yr experience give me a call or text (307)371-4379

i have been working on cars and trucks for over 25 years i worked as a diesel mechanic at cummins int. it is a hobby to me!!

otto, miller, diesel... i love it. been building and destroying engines for the past five years

I am a mechanic with 15 years of experience. I have just about every tool you would ever need to pull any part off of any vehicle. I have experience with just about every make of vehicle. I am efficient and fast.

8 years ASE experience From Chrysler to Audi I can find, restore or re manufacture any part or vehicle.

hey, I'm available any day or night to pull parts, I work from home so my schedule is flexible, I used to driver truck... let's gitterdone!!!

Hi my name is keith i work at a automotive repair shop in salt lake city. I do electrical and mechanical automotive diagnostics, R&R, some custom mods, auto body, used parts refurbishing.

Feel free to message me on the parts you need and I will gladly pull them. (Most) Backyard mechanic. I will inspect products before shipment for any damage or missing pieces.

Love to tinker on cars in the evenings and weekends. I love wandering around a yard early in the morning to see what I can find. I can pull whatever you need quickly and efficiently.

Well i pay attention detail. I take my time when pulling parts so i don't brake or damage parts. But at time's it does happen.

I am a Senior A. S. E. Master Certified Automotive Technician. I have been working in the Automotive Profession since 1984. I am a graduate of Universal Technical Institute

I like to rebuild 1970s pickup trucks. I have knowledge on pulling parts on various vehicles.

I'm Adam and I've been around cars for a few years and if you need help getting a part for your vehicle I'll be glad to help you the best I can

My name is Alex I am a car and driver enthusiast. I've graduated from the U.S. Army wheeled vehicle mechanics school, andd have been a shade tree mechanic my whole life.

I am a hard worker who loves to take apart stuff and put them back together in a new way. I am willing to pull any part off a car even if its the piston.

I have 20+ years experience turning wrenches and have 4 self service yards within a 30 mile radius of me. And I will never take a shortcut (such as cutting a wire harness) to get the part you need.

I really like working on vehicles I'm always up for a challenge so bring it on!! I was a diesel mechanic for Cummins intermountain so I do have several years experience in auto Mechanics!!

Need a part pulled (most makes/models)? I'm at your service! I'm located in the Salt Lake Valley.

We will pull your part within 4 hours max with minimal mark ups. Delivery charge is $1 per mile

A former mechanic who grew upon the auto industry I have been working on vehicles for over 30 years.

Professional auto body man and painter. Not your typical hack and slash parts puller. I pull your parts with the same care that I give to my own.

I am a car hobbyist, always pulling parts for myself and others. I would love to help you out as well.

I work as a Diesel Mechanic for last 6 years. Napa auto parts for 9 years. Paint and body shop 5 years. Confident In pulling the right part sucessfully. How can I help you?

I can pull suspension, bolt on, interior, stereo, computer, engine, electrical, just let me know, and I will get it, if it is available in my yards.

I typically go to several yards a month. Flat rate of $40 an hour with a 1 hour minimum, as well as parts+shipping (if needed) I can check other yards for you in Utah county as well. Contact at 8014713313 text is best.

I'm willing to pull any thing you may need. My hours are Saturday and Sunday because I work full time.

My name is Alex, 22 years young. Have worked on cars with my since I was a kid. Still work with him at his shop. I live in Salt Lake City, Utah.

I am a Graphic Designer. At 19 I ran a VW repair shop/salvage yard. I have worked on my cars, friends cars, and family's cars for the past 32 years. Prefer Pontiacs, Jeeps, and other GM's. Will deal with any.