PICK-n-PULL Sparks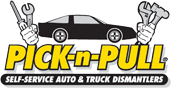 Address

2205 Larkin Circle

Sparks, NV 89431

Phone
(775) 359-4147/8600
Hours
Mon-Fri 9:00 am - 5:00 pm

Sat-Sun 8:00 am - 5:00 pm
LINKS
Website | Part Pricing | Yard Map
Vehicle

Info

Yard

Row

Added
Due to family medical issues I will not be pulling parts at this time. I am fulfilling requests previously received, but am not taking on new requests at this time.

My name is Eric Seltzer, I'm retired, 74 years old, and live in Sparks, Nevada. I can pull parts (no engines, transmissions, axles) quickly anytime, and ship anywhere. I've been a Top-Rated Seller on eBay since 2002.

I have pulled and replaced parts on cars most of my life and have always done all of my own repairs on every vehicle I have ever owned. If you need a part from Sparks or Carson yard just call me. 801-916-78oneZero

I'm a mechanic with 25 years experience and live near the Sparks pick and pull. so I can pull any parts from there that you might need..

Need a part I might just have it up my sleeve. Just let me know I'm new to parts pulling but have 4 years automotive experience and pull parts weekly with my friends for our cars

Hello, If you have a need we can hopefully fill that order and have you back on the road in no time,we accecpt PayPal, money orders, western union and most major credit cards, Please feel free to call me (775) 430-7440

Carson City local, so thats the yard im primarily pulling parts from right now, having problems with pay pal so cant take payments now. pay for parts and shipping through phone i just hand the phone off at checkout

Hi i am at pik n pull so much that one of the counter persons told me that he only knew of 1 other person doing it and that i should sign up. I take my time to not brake anything and believe this would be honest income.

Chris. Here to help the one in need of parts will give the best discription possible abought item and try too work with price and shipping. Here to work for you!

Trying to learn more about cars and to make money to do just got done rebuilding a 97 toyota t100 engine

I am very knowledgeable. I take the time to pull parts properly. I try to be very prompt and courteous.

Over 40 experience doing mechanical and body restoration in my fully equipped shop 2 blocks from pick and pull. I'm pulling parts Dailey and know good parts and

28 years working on cars and scavenging junk yards so if you need a part chances are I can find it.

I am Jay and I often visit yards in search of parts. If there's anything I can grab it wouldn't be a problem.

over twenty years servicing vehicles my specialty is European car Audi, BMW, Mercedes, Land Rover, Porsche, Saab, etc...

I have been in the automotive industry for 15 years and enjoy restoring older cars and trucks. I'm also into motorcycles as well. Repair service, choppers bobber baggers, whatever is needed. I want to start a bike sho

Hello, I am an engineering major in college with over 20 years of experience working on various cars, motorcycles and small engines, but I'm not a pro. Let me know how I can help! (775) 842-6625 Text preferred

I'm a mechanic by trade specializing in Ford but not limited to them. I'm well rounded and can pull anything. Many years in the automotive field.

Hi my name is James I currently live in Carson. I currently go to school for auto. But I also do it during the day as a side job as well.i currently only I'm doing smaller parts like interior, engine parts and body part

Just an old school hot rodder from the South. Years experience,tools,etc.If you need it,I will do my best to help ya. Have access to other yards.call or leave a message anytime.You want it,I'll get it!

Hi there. I can pull any small part and send it fast: interior ones like mirrors, handles, cup holders etc., exterior like lights, antennas, flaps and engine bay ones like sensors, starters, up to alternators.

I've been taking things apart since I was two years old! It's now 50 years later and I still love it. If you're having a hard time getting someone let me know, I'm always making Pick-n-Pull runs because I flip cars.

Full service parts puller in the Reno, NV area. I offer prompt and friendly service at affordable pricing for all your used automotive part needs. Have a question? Just ask!

Hello! Here to help you get the parts you need before someone else gets to them! Will not pull engines or transmissions.