PICK-n-PULL Tacoma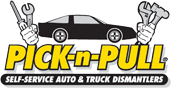 Address

2416 112th Street South

Lakewood, WA 98499

Phone
(253) 588-1775
Hours
Mon-Fri 9:00 am - 5:00 pm

Sat-Sun 8:00 am - 5:00 pm
LINKS
Website | Part Pricing | Yard Map
I'm here to find your part I won't let you down on newer vehicles and may take a few more days I go to a lot of yards and I have the ability to find what you need I'm here for you the customer please send cell number

I am here to help people get the right parts so they can fix their cars.I can pull anything you can contact me at 206 423 7155 please text if possible thank you

Retired Army aircraft mechanic. I have over 20 years of buying repairing and flipping vehicles. I'm able to accurately identify and quickly pull any part you need. Send text 425-245-3103 (include vehicle and part)

30 years of Automotive repair, machining, fabrication, and restoration. The correct tools and knowledge to do the job Right!

Been pulling parts for 9 years. Will ship anywhere. And deliver local. Will pull any parts engines, trans etc

Hi my name is jr and iam in the yard a lot so if u need motor or trany. Pulled or anything else i'll be happy to help i do check parts be for pulling

Unfortunately I have been unable to make it to a yard in months. Currently it would be in your best interest to utilize a different Puller. Sorry for any inconvenience this may cause for you.

I can pull it, ship it, install it depending on your needs. I specialize mostly in 92-97 F-series and Taurus . $35 an hour

i am a family guy who works a full time do this to make alittle xtra can do all removals and will do some installs if needed can deliver call @425-257-3231or ford5.0bronco@gmail.com can ship

From daily commuters to Hod rods and even Kit cars, I have been turning wrenches for over 20 years. Let my experience help you. Shipping available . Getting parts off corectly.

I'm knowledgeable and have the right tools to get it done. I'm not doing this to make money so my prices are more than fair

I live within a mile of the Lakewood/Tacoma pick n pull and available to check on part availability and send picture of part you may be interested in. Available for pulling and shipping.

Can pull anything for you at great prices, Take credit, debit, paypal. Must be paid before hand.

Heading over to the Seattle WA area soon and would love to pick some parts for anyone that needs stuff along the way! Smalls are easiest for me to ship and pull !

New to being a "Puller" but I have pulled my own parts and been a mechanic for a long time. Happy to help

Im available to pull parts from any yards in western Washington and ship to any of the continental states

A1Partsman. More than 30 years experience on motorized vehicles of all kinds. Domestic, Import, custom, personal, private,

If u need it. Ill get it.. my girlfriend is also a puller mrsrissa. Its a team thing. We can also install

I have been working on cars for over 30 years and can pull most anything. I will not however pull whole motors, trannys or suspension parts and I won't work in the rain for you-to old for that noise. Job determines rates

Need something picked, no problem. Mostly focus on interior salvaging. Got the tools to do just about anything.

Volkswagen Parts from Golf ,Jetta, Cabriolet, Rabbit, Scirocco ,Vanagon ,Call 206-403-3835 .Ask for Robert

I'm a certified mechanic and I own a small 2 bay transmission and auto repair shop in tacoma. Feel confident that I'll get you the right part and can even install it at my shop. 253-310-3931

I have five and a half years of experience working at a NASCAR track whelen all american series. I was the crew chief of the 2011 track champ.

My passion is for mk3 vw's and vr6's;however, i am experienced on all types of cars from the 20's till present. I am very orderly and my luck with used parts has been very positive(they all isually are in working cond).

I frequent pick apart for all my parts needs and am an experienced mechanic that would be willing to look for and pull parts for individuals if I so happen to be going there or am there.

I have been building and racing cars for over 35 years. Now I organize racing events & work for myself so am free 7 days a week. I do this for hobby so make a fair offer and I'll pull your part for less.

Hi I'm Robert I specialist in all Japanese cars Toyota, Lexus , Honda , acure, datsun,Nissan, and infinite

I'm an ase certified technician and am available 7 days a week I live a half mile away from the Tacoma pick n pull

I still own my very first car. I have good skill in removing parts. Closest is Tacoma. I have a good job so this is a side hobby and good reason to visit pick n pull Lakewood location. Include a cell number for pictures

I'm 30 years old I'm a single dad of 2 kids which I have full custody of & I like to work on cars in my free time

I have been called a backyard mechanic because I do all my own car repairs as well as some for my family and friends. I have yet to come across a part I was unable to remove. I am available on weekends and most Friday's.

Since I came down with MS I have time to do what I love, wrench on cars. I do my own as well as friends and family's. I am always looking for parts for someone and make frequent trips to the local wrecking yards.

Parts at cost Will show receipt. Can help install as well. All picking or installation on a donation basis. Pay what its worth to you, I do this on a Part-Time/Hobby basis.

Hi, to everybody!.. my name it`s Ralph I`m proffesional mechanic diesel and gas. with experience 30-40 yrs.several kind of mechanic and system`s work specialize in automatic transmissions.

I have been a mechanic for over 25 years. If there is a part that I can get for you when get to a yard, let me know.

I'm a mechanic of 17 years. I have a go get em attitude and can get the parts you need with pictures quick fast and in a hurry. Many yards to choose from. Sorry no major driveline pulls.

Aerospace assembler and old skool van restoration. I can pull any part off any vehicle so you don't have to. can also deliver within the Seattle Tacoma area.

I've been working on cars for years,so I'm quite knowledgable. I have skills in auto body/mechanics, but my job title is welder fabricator, so I do a lot of customization.

24 years under my belt professionally. Weekend helper now that I no longer do this in a shop. If you need a quick part, or a part changed contact me, I may be able to help.

I am a back yard mechanic, having only a few college classes in automotive. Served over sixteen years in the US Navy as a jet mechanic and construction as well.

I can pull just about anything and bring it to you as long as it can be lifted by one person

I am a professional diesel technician by trade and have been working on cars and trucks most of my life.

Located in the Lakewood, WA area, I have over 10 years of broad experience in the mechanics' industry,which includes both gasoline and light duty diesel applications.

Hi my name is Tony, If I can help u get the parts u need I will gladly do so, as long as I don't lose money or my time , I want to make life better for everyone I reach

DIY guy with time to spare. Let me know what you need and i will find the time to get it to you.

Engineer up north in Dutch harbor. At the Tacoma and tumwater yards all the time for jeep parts.

My name is Kristian, CALL, TEXT, OR E-mail me if you need someone to pull a part for you. Now serving in Washington. (831)-498-3010

My boyfriend is a mechanic and we come across lots of cars, and have lots of spare parts, especially on Chevy trucks and cars. I am able to go to various pick a part lots in the Northwestern states

I pull parts, rain, snow sun, morning-evening. if you dont want to get dirty, call me, I will pull parts for ypu, for a fee.

Hello there I am a Vet going to school and studying automotive. Looking to make extra cash pulling parts. Can ship and or deliver to reasonable distances with additional fees.

5 ASE Certifications, 19 years experience, and an automotive technology degree mean that you will get your part in great shape, ready for you to install. Cleaning and overhaul/repair of most parts available. PM Me.

I can pull parts as far north as Tacoma and as far south as Vancouver. I can ship though if you are outside of these locations.

i am available to pull parts you need. i specialize in acura legends, but also do honda and other japanese vehicles

Extensive knowledge working on cars and doing repairs. Ive been turning wrenches since I was old enough to sit on a fender well and help my grandpa.

I like pulling parts for a hobby. I've gone to the Pick-n-Pulls in the area often. You can contact me at 425-289-9192, I'll pull anything out of whatever car you want as long as I have the tools and can fit it in my car

25 years of professional mechanic service. I offer the cleanest parts in good working condition.

i will pull almost any part you need (if vehicle is available) always careful and for a fear price for both of us.

I'm Lucas. My specialty pulls are Kaiser/American/Jeep. Part charge (@yard price) + Pack/Ship @$20. Buff cleaning service @$30. Yard photos free. I offer local help on Fri-Sat. Call 48hrs in advance.

My name is jeffrey I will pull any part you wish from simple to complicated I am skilled and reliable and have been working on cars for over 5 years I am mobil so I will be able to go to a variety of yards

I'm from the Seattle area been in the construction field 30 years. Very mechanically inclined. Looking to make some extra money in my spare time and when at a yard pulling parts .

Well have worked at just about every junk yard in pierce county so if you need some one to go pull a part for you just let me know what ya need and i go to it. Also here is my direct contact 253-652-8304 rob

Small engines and diesel engines mechanic have pretty good experience pulling parts at Pick n Pull. Currently own a 1989 Ford Ranger.

I am semi-retired and caregiving my daughter who lives with me. I have worked on my own vehicles for the last 40 years so have pulled many a part. I'm hoping to help you and help my daughter and I with some added income.

Forklift technician by day, parts puller/mechanic by night. I live one mile from pick-n-pull and can pull any thing, any time. Jeep+4x4 off-road specialist.

Active duty military with 25 years experience rebuilding engines, transmissions, drivetrains, and anything else you can think of. Honest and dependable. Thanks

I am available on a fairly limited basis to check on parts and/or pull smaller items. Occasionally I might have the ability to pull larger items of things work correctly. Just ask!

I am 20 years old and I have worked on cars since I was 16. I have spent countless hours in the junkyard and have worked in a shop for 6 months. I can pull just about any part from any car; I've got a full set of tools.

I like to go out to different junkyards in my free time and pull whatever parts tickle my fancy at the time. The older vehicles are my favorite to pull from. I travel a lot, so I go to some pretty unusual junkyards.

The parts you need at a rate you want. Part Pull and Part locate service. Local Delivery and Install or Shipping or Freight available. Accept Paypal, Google Wallet, Credit/Debit Card, or Cash. Deposit required.

Names Brit and I'm here to help with your troubles the best way to reach me if you have a part needed from my area is by phone 253-208-3413 or 253-478-0487 TheSimplieFilthie@gmail.com I'm a very good machinic

Have owned 12 vehicles so far in my life. Know my way around any Ford, Chevy and VW engines.

I only live about 5 miles away the Lake Stevens' Northwest Auto Recyclers. I work close to the Lynnwood Pick'n'Pull as well. I have a truck for large parts and plenty of tools. I also have a "helper".

I have most tools needed, and the know how. No part is too big. Available to pull just about anything in the yard inventory. Various shipping carriers available.