PICK-n-PULL Tacoma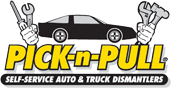 Address

2416 112th Street South

Lakewood, WA 98499

Phone
(253) 588-1775
Hours
Mon-Fri 9:00 am - 5:00 pm

Sat-Sun 8:00 am - 5:00 pm
LINKS
Website | Part Pricing | Yard Map
just need to say if you contacted me in past sorry if i did not get in touch with U!! I can pull the parts u need ship them if small etc please lave a good working cell number will be checking messages every night

I am here to help people get the right parts so they can fix their cars.I can pull anything you can contact me at 206 423 7155 please text if possible thank you

GUARANTEED QUICK RESPONSE!! I instantly check all my messages. 206-473-0549. Text or Call. Im in the yard everyday. I can pull the Part. I can ship the Part. I can delivery locally.

Retired Army aircraft mechanic. I have over 20 years of buying repairing and flipping vehicles. I'm able to accurately identify and quickly pull any part you need. Send text 425-245-3103 (include vehicle and part)

Hi my name is jr and iam in the yard a lot so if u need motor or trany. Pulled or anything else i'll be happy to help i do check parts be for pulling

Car enthusiast who visits the yards when I get a chance. Looking to make a little extra money. Can get most parts.

I can pull it, ship it, install it depending on your needs. I specialize mostly in 92-97 F-series and Taurus . $35 an hour

From daily commuters to Hod rods and even Kit cars, I have been turning wrenches for over 20 years. Let my experience help you. Shipping available . Getting parts off corectly.

I live within a mile of the Lakewood/Tacoma pick n pull and available to check on part availability and send picture of part you may be interested in. Available for pulling and shipping.

Can pull anything for you at great prices, Take credit, debit, paypal. Must be paid before hand.

Heading over to the Seattle WA area soon and would love to pick some parts for anyone that needs stuff along the way! Smalls are easiest for me to ship and pull !

If u need it. Ill get it.. my girlfriend is also a puller mrsrissa. Its a team thing. We can also install

My name is Kilian. I work as an automotive technician for myself and buy and sell vehicles. I have a flexible schedule for parts pulling.

Volkswagen Parts from Golf ,Jetta, Cabriolet, Rabbit, Scirocco ,Vanagon ,Call 206-403-3835 .Ask for Robert

I have five and a half years of experience working at a NASCAR track whelen all american series. I was the crew chief of the 2011 track champ.

I have been building and racing cars for over 35 years. Now I organize racing events & work for myself so am free 7 days a week. I do this for hobby so make a fair offer and I'll pull your part for less.

I'm an ase certified technician and am available 7 days a week I live a half mile away from the Tacoma pick n pull

I still own my very first car. I have good skill in removing parts. Closest is Tacoma. I have a good job so this is a side hobby and good reason to visit pick n pull Lakewood location. Include a cell number for pictures

Parts at cost Will show receipt. Can help install as well. All picking or installation on a donation basis. Pay what its worth to you, I do this on a Part-Time/Hobby basis.

Hi, to everybody!.. my name it`s Ralph I`m proffesional mechanic diesel and gas. with experience 30-40 yrs.several kind of mechanic and system`s work specialize in automatic transmissions.

24 years under my belt professionally. Weekend helper now that I no longer do this in a shop. If you need a quick part, or a part changed contact me, I may be able to help.

Located in the Lakewood, WA area, I have over 10 years of broad experience in the mechanics' industry,which includes both gasoline and light duty diesel applications.

i will pull almost any part you need (if vehicle is available) always careful and for a fear price for both of us.

I'm Lucas. I will pull American/Jeep only. Parts charge = Yard price + $20 Pack & Ship! Parts cleaning = $30 Yard photos always free. CLOSED for Winter!

I am available on a fairly limited basis to check on parts and/or pull smaller items. Occasionally I might have the ability to pull larger items of things work correctly. Just ask!

The parts you need at a rate you want. Part Pull and Part locate service. Local Delivery and Install or Shipping or Freight available. Accept Paypal, Google Wallet, Credit/Debit Card, or Cash. Deposit required.

Have owned 12 vehicles so far in my life. Know my way around any Ford, Chevy and VW engines.

I only live about 5 miles away the Lake Stevens' Northwest Auto Recyclers. I work close to the Lynnwood Pick'n'Pull as well. I have a truck for large parts and plenty of tools. I also have a "helper".

I have most tools needed, and the know how. No part is too big. Available to pull just about anything in the yard inventory. Various shipping carriers available.

I will pull pretty much any part you need. Tell me what you want we will negotiate a price. I need to be paid before i pull through pay pal. If the price is right I can get you what you need. I live in longview.Thanks

Willing to pull parts on any vehicle, will ship at buyer's expense. Can meet within 3 hours of Tacoma area. Willing to pull parts at lost other than selected on profile as long as they are within my meeting radius.

Hello I'm an experienced German car mechanic, I am also very good with domestic vehicles. Let me know what you need. Thanks Tim S.

35 years plus experience in mechanical repairs and rebuilding we specialize in BMW repairs, customizing, coding, relearning, programming, unlocking features, engine & transmission rebuilds, body repair & painting & more

Dealership technician looking to make some extra money, while I'm already at yards pulling parts for my own projects.

im highly capable to pull any part you may need and do it quite efficiently, and i know what im looking for as im a mechanic myself, so i wont be pulling you crummy parts, only ones i would install myself.

Im Brandon, I love working on cars, and helping other people work on theirs! if you're looking for a part, I can pull it/ship it. text me if you need a specific part 360-359-6371.

I'm a 19 year old college student who is attending an automotive technical school this fall. I've owned 5 cars and maintained them. I've done engine and transmission pulls and can do any job you need done for your car!

YOU PICK, I PULL. Can ship anywhere or install local for fair prices. Parts will be delivered/shipped cleaned. I have my own shop near P&P Tacoma.

Very knowledgeable. I come prepared , with tools and positive attitude. Was professional mechanic for 3 years. Would prefer cash only.

I am equipped with basic automotive tools, and have located and installed used parts for many years. I am also experienced in maintenance and repair of common American and Japanese vehicles built from 1960-2010.

Will get parts from yard. I love gm and honda vehicles with easy engine component access. never had to scrap one yet.

"I was raised WORKING foreign and domestic vehicles and installed glass, body parts, repaired and replaced PARTS from every MAKE UP TO 2018 ..I know cars and trucks and how to take CARE OF THEM. CALL AND TXT FOR PULLS."

I buy and sell cars for a living. If you need any parts pulled please let me know. I will also install for a fair price. I will only pick the part if it looks good.

Active Auto Technician for the last 7 years. From foreign to domestic, i do it all. i visit pick n pull for parts at least twice a week if not every other day.

I enjoy taking cars apart, I have multiple car project and I have gone to the junk yards multiple times. You could say I'm a junk yard veteran. Let me get you your parts.