PICK-n-PULL Tacoma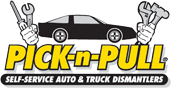 Address

2416 112th Street South

Lakewood, WA 98499

Phone
(253) 588-1775
Hours
Mon-Fri 9:00 am - 6:00 pm

Sat-Sun 8:00 am - 6:00 pm
LINKS
Website | Part Pricing | Yard Map
Vehicle

Info

Yard

Row

Added
30 years of Automotive repair, machining, fabrication, and restoration. The correct tools and knowledge to do the job Right!

Been pulling parts for 9 years. Will ship anywhere. And deliver local. Will pull any parts engines, trans etc

Must send contact number been pulling since 1979 go to yard 4 days a week here to help you get your part must talk to before part pulled pay pal accepted install parts local also

Tons of experience, private mechanic, ran a scrap yard, few cars I haven't had my hands on. Will pull from anything, I also visit many yards NOT on Row52 so may be able to find what you need/want.

I can pull it, ship it, install it depending on your needs. I specialize mostly in 92-97 F-series and Taurus . $35 an hour

Mobile auto mechanic servicing Western Washington. Keep It On The Road Pricing! D.I.Y . assistance! YES...call for your project QUOTE

Busy father, would like to help if I can. Let me know what ya need, how soon, and I'll see what I can do

i am a family guy who works a full time do this to make alittle xtra can do all removals and will do some installs if needed can deliver call @425-257-3231or ford5.0bronco@gmail.com can ship

I have been a Volkswagen parts reseller since 1995. Primarily Volkswagen, Porsche, Audi, BMW, etc.I carefully inspect Items I sell, and pull parts for customers on a pre-paid commission basis.

I'm a father of three with a love for German and Swedish engineering. I've got an 89 Volvo 240 and a 93 Audi quattro wagon. Let me know what parts I can pull for you!

I still own my very first car. I have good skill in removing parts. Closest is Tacoma. Second is Tacoma Auto Exchange. Next is Tumwater, Lynnwood and Furthest is Arlington

From daily commuters to Hod rods and even Kit cars, I have been turning wrenches for over 20 years. Let my experience help you. Shipping available . Getting parts off corectly.

$20 hr and part price (cash only)full time job but Need abit off extra cash Will ship Deliver for feePulling only I have a buddy i can refer for install Call me425-512-7470

I'm knowledgeable and have the right tools to get it done. I'm not doing this to make money so my prices are more than fair

I live within a mile of the Lakewood/Tacoma pick n pull and available to check on part availability and send picture of part you may be interested in. Available for pulling and shipping.

Can pull anything for you at great prices, Take credit, debit, paypal. Must be paid before hand.