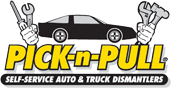 Address

2416 112th Street South

Lakewood, WA 98499

Phone
(253) 588-1775
Hours
Mon-Fri 9:00 am - 5:00 pm

Sat-Sun 8:00 am - 5:00 pm
Yard Map
Click here!
WEBSITE
Homepage | Part Pricing
Vehicle

Info

Yard

Row

Added
Contact via my cell 5092933942 can pull any pretty much any part from any car at any time it's needed many years exp can also ship most all pArts thanks hope to hear from you soon

Local only, cash only, $40 to meet you at the yard plus $35/hr to work. I will not be ripped off by long distance ***** anymore.

I can pull it, ship it, install it depending on your needs. I specialize mostly in 92-97 F-series and Taurus . $35 an hour

Mobile auto mechanic servicing Western Washington. Keep It On The Road Pricing! D.I.Y . assistance! YES...call for your project QUOTE

Busy father, would like to help if I can. Let me know what ya need, how soon, and I'll see what I can do

i am a family guy who works a full time do this to make alittle xtra can do all removals and will do some installs if needed can deliver call @720-232-0214 or ford5.0bronco@gmail.com can ship

I have been a Volkswagen parts reseller since 1995. Primarily Volkswagen, Porsche, Audi, BMW, etc.I carefully inspect Items I sell, and pull parts for customers on a pre-paid commission basis.